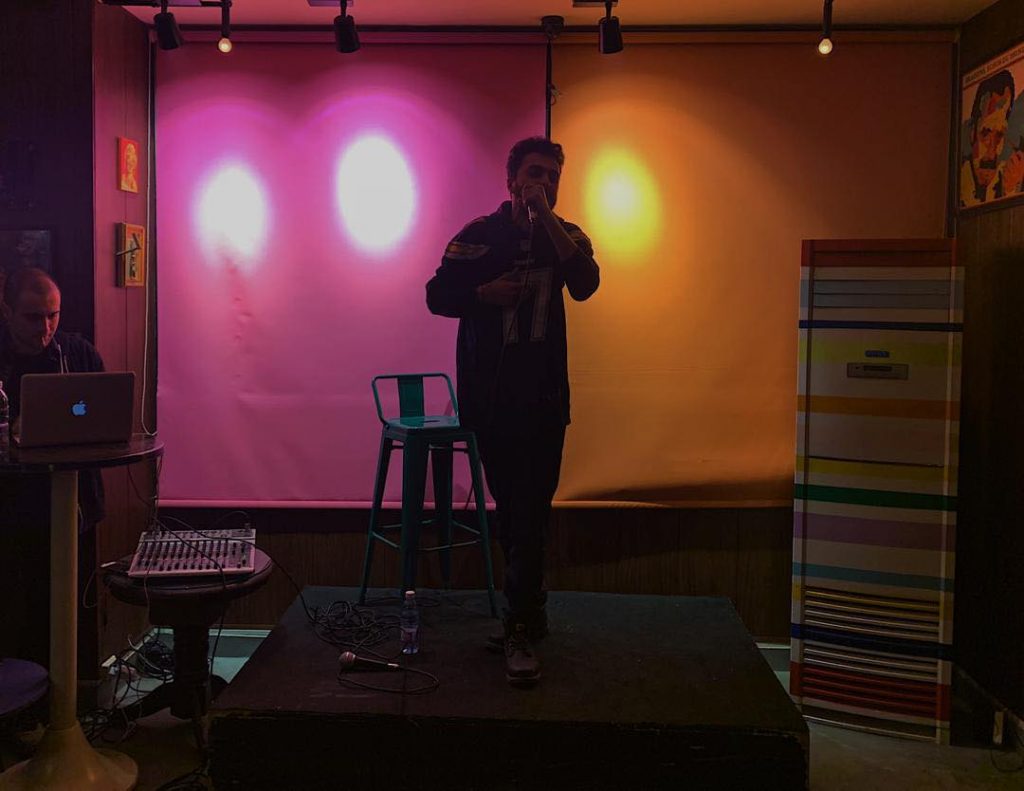 Rap music has been spreading remarkably in Arab countries for years, and although this type of music did not initially receive wide acceptance, the situation changed and attracted a new audience outside of its regular audience. This spread is due to several factors, the most important of which is its keeping pace with and expressing the current social and political conditions. In this article, I am sharing the story of a young Libyan rapper and his journey in this field. Get to know the story of OneRing.
Who is OneRing?
Waseem or as called "OneRing" is a 21 year old Libyan based in Beirut, Lebanon. He is currently studying at the American University of Beirut (AUB). For him, rap is an influence, a journey, and a story which started from a young age. His older brother, Weam who is a rapper as well, was his first inspiration. OneRing basically listened to everything his brother listened to. From Eminem to 2Pac. He rapped occasionally, but mainly in school. English is the main language he uses to rap. However, he is trying to experiment with Arabic, too. OneRing is still finding his voice as he described but still focuses on the root of global rap which is New York.
Where It All Began
Right after graduating high school, Waseem took off his journey to start a new life in Beirut in 2017. When he went to Beirut, rapping school phase was over. In other words, the phase of using other song's lyrics to rap on was over. He was observant and he would admire how rappers put lyrics together to come up with mind-blowing work. He started writing and freestyling in 2018 which was official in May and he experienced writing and rapping his own work.
One day, there was an open mic event in Beirut. Open mic nights are events where anyone can participate. At first, he only went to watch others perform. Eventually, it encouraged him to eventually do it. He wrote his first rap verse and it took him a whole month to put it together. It was an introduction about him and he had a lot on his chest so he wrote it down. He rapped it at the open mic night and got a lot of great feedback. He went with two of his friends, Ali and Montaser, and they were his major supporters. OneRing explained that the open mic night was all about inclusion and encouragement. 
The Rap Scene in Libya
OneRing and I discussed the rap scene in Libya and all the challenges linked to it. Rap is affected by culture and society and also the making of the lyrics is deeply connected with authenticity. People don't have much input from other artists to improve it. A lot of artists listen to sub-genres but there are a lot of types of rap. However, some of them get stuck in a single genre. It is definitely affected by the culture and a lot of rappers say what they want to say.
Nevertheless, there is always this element of censorship that would affect the work of rappers, OneRing added. As much as it is considered to be the dominant genre. Nonetheless, it has always been hard to rap in Libya. For example, censorship is way a lot now and let's say if you wanna rap about politics and choose one side to rap about but everyone is connected.
The Richness of Rap in Lebanon
He noticed in Lebanon that he would introduce the Libyan culture to non-Libyan students. Throughout, he would show some Libyan rappers to his friends abroad because people are not aware of it. Unfortunately, there isn't a structural way to display the rapping work of Libyans that could possibly be expanded within the region. 
OneRing was definitely influenced by the rap scene in Lebanon. He really liked that they have rap battles/rap rallies. It is like a sport to get the crowd cheer for you. Lebanese have their own style and Lebanon is the first to use Arabic exclusively to rap. There is another open mic night and people would switch up the mic. They freestyle and rappers would perform freely. It opens an opportunity for new rappers to expand.
He has been influenced by one of the rappers in Lebanon named Jess prophet. He met him through an open mic night. After that, he went to the studio with him. There are more than the rapping itself that is linked to this genre. From how to be heard in the record and when to be low and high. Also, the correct attitude to have and the vibe are key variables in the rap equation.
Releasing His First EP
He recently released his first EP which stands for "extended play record". The work began in 2019. His friend Ali and him had the idea called Family Picture. He met Jeff Prophet, the Lebanese Rapper I mentioned above. In addition, he met the main producer Aladin. He didn't write the songs at once but they were written over a long period of time. With a different thought, story, and a feeling. It is not a story but more likely a train of thoughts. Not all of the songs represent a story, some are considered freestyle.
The EP is a coherent project. His brother Weam was the executive producer. It was inspired by many people in his life and also other rappers and rap songs. After it was released, he still cannot comprehend it. OneRing never saw it coming, but here we are. He is happy and I believe we are all happy.
However, there are numerous challenges faced by Arab rappers in MENA region — including that they would not obtain the means to get their work exposed. Funding remains one of the main obstacles. Rappers should have knowledge in sound engineering as well. Especially to be understanding of the work done by producers. Also, social restrictions are another challenge. Rappers are not the only thing to look at but the whole package. There is production, advertisement companies, etc.