Posted on August 14, 2021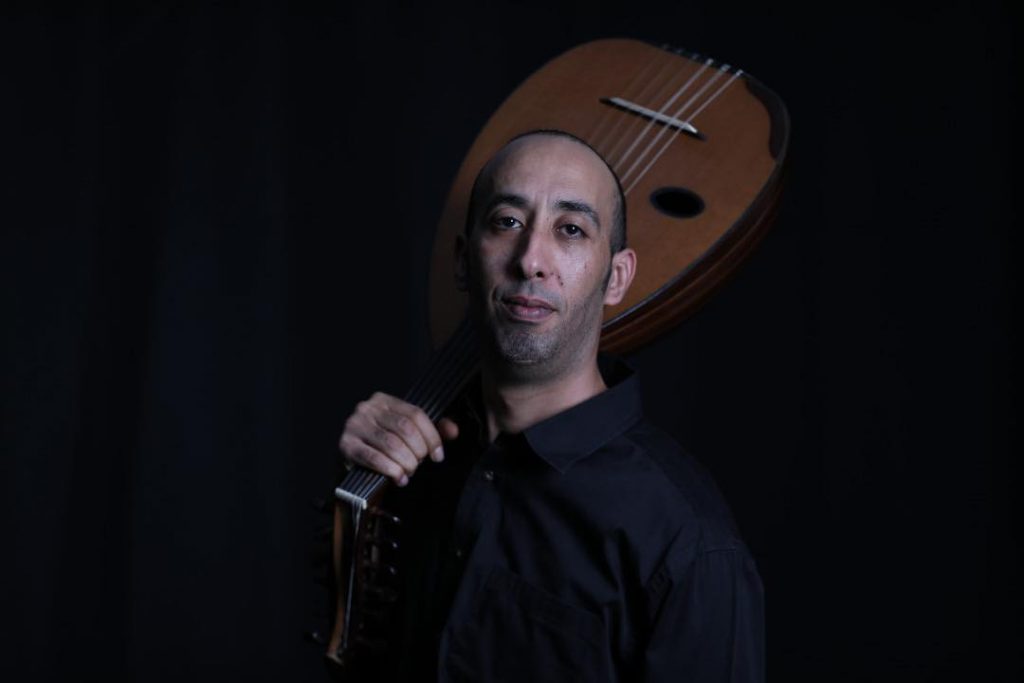 Music affects our emotions in a great way. When we listen to sad songs, we tend to feel a decline in mood. While if we listen to happy songs, we feel the opposite. The music we listen to really impacts who we are as people and how we feel daily. A certain tempo and rhythm has a way of ruling over our body; if that's in a negative or positive way. In my country, Libya, music has great importance though it hasn't gotten the proper attention it deserves. The diversity of the musical scene in Libya is very unique and it reflects the uniqueness of the community. Many musicians had influenced and still influences the scene to this day. Such as Hasan Arebi, Mohamed Hasan, and Ahmed Fakroun. Oud
The musician I interviewed for this article has what I discovered a philosophy in music. It is a journey of not only playing a musical instrument but to honour and respect the way it is played. The precision and smoothness of the way he plays oud is an experience for any listener. I have discovered him through Clubhouse in a musical room where many Libyan musicians were part of it. Then a friend of mine suggested to interview him and I knew it was a sign I couldn't ignore. In this article, get to know the story of the Libyan musician and oud player, Hisham Errish.
Who is Hisham Errish?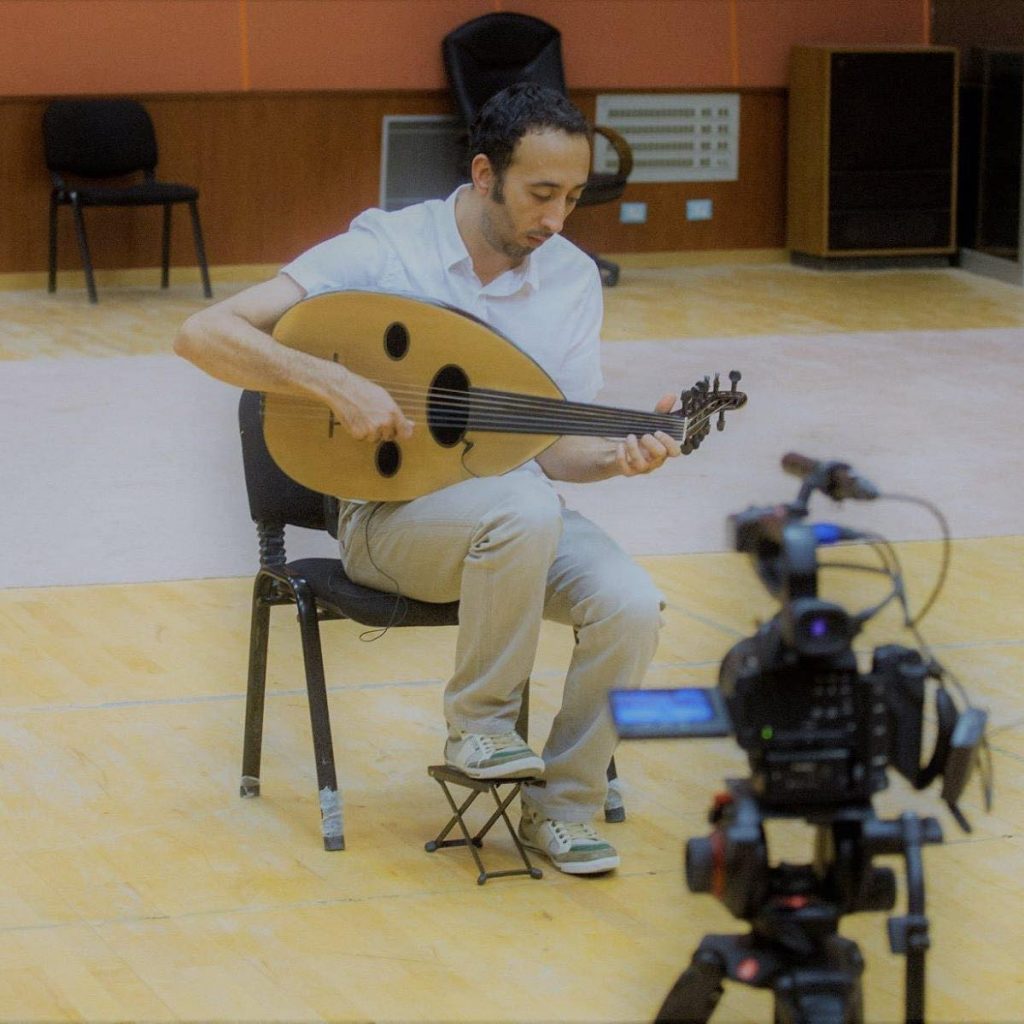 Hisham Errish is a 40 year old musician and Oud player from Libya. He is originally from Benghazi but he is based in Tripoli. He has been in this career for about 20 years. His father and old brother are both oud players. The sound of oud is frequent in their household. When he was young, he tried to learn playing tones. Years passed and he abandoned the instrument for a while. Only to commit to it since his high school years. During his studies in the Institute of Music, he got to meet many players and musicians in the field. He is also inspired by the Iraqi musician and Oud player, Naseer Shamma.
The Libyan "Continent"
Oud
For Mr. Hisham, his main project is the Libyan music as he considers Libya, not only a country, but a continent. This comes from an utterly musical perspective. After he graduated, he was supposed to work as a teaching assistant, however, the institute refused to hire him.
In fact, to this day, he does not know why they refused him regardless of covering all the requirements. He stated that, in Libya, we sadly suffer from poor evaluation which could make or break the position or the opportunity. The obstacles he has faced through his career were solely financial. Nonetheless, Mr. Hisham is very determined and he likes to share his perspective in music. This aspect challenges the status quo in the society but at the same time, it is what causes real change to happen.
Progression of Music in Libya & The Change Needed
Oud
According to Mr. Errish, nothing has changed much within the musical scene in Libya. Real musicians wouldn't ask for support of any form and this could leave them steps behind. But they remain true to the profession and field. They get always what they need the hard way. As Mr. Hisham explained through the interview, Ahmed Fakroun and Nasser Mizdawi transformed the musical sphere in Libya and took it to an international level. We strongly need to show the diversity in music such as Maqam Nawa, Malouf, and indigenous music.
He also added and questioned the fact that, us Libyans, we don't have "jealousy" on our heritage. There is always an external influence, even some musicians would sing or play songs from the region other than Libyan songs. We need music to be in schools through art and theatre to empower child's personality. It is important so the child can grow and have taste in music. Also to be familiar with key musicians and players. We need knowledgeable generation which knows how to evaluate music in a professional manner.
His Contributions & Oud Creations
Mr. Hisham Errish participated in the International Oud Festival along with 30 Oud players. He also participated in many festivals and events mainly abroad. Through his 20 years of experience, he has always had his Oud with him. Under the rockets and in peace, he created many musical pieces which a lot of people felt and considered therapeutic. He realised at that point the profound impact of his musical pieces. Every piece has behind a special idea and target.
The following are stories or inspirations behind some musical pieces Mr. Errish composed during his career: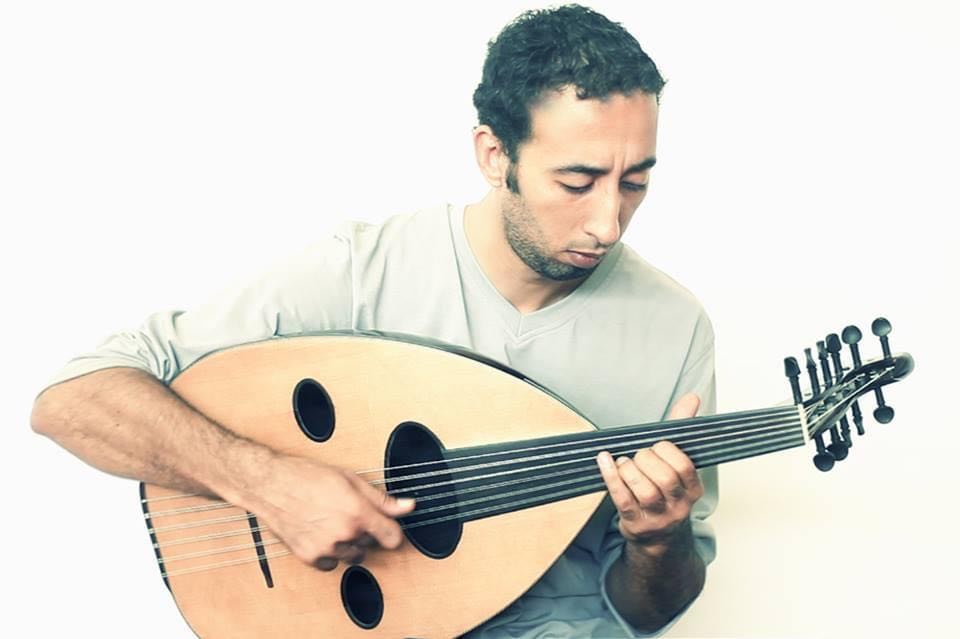 1- The Dream
This musical piece was inspired from a dream Mr. Hisham one night had. During his years in the Institute of Music, he was highly influenced by the piano. At that time, he began to learn how to play this instrument. One day, he was asleep and had a dream of a prince who was not good looking wearing a mask on. The prince's tears streaming down his face behind the mask dreaming of a dance with the princess he loves. Knowing that she will never accept him.
2- How Orpheus Sang
Back in the days, Mr. Hisham had an argument with his wife during their engagement period and because of that argument, he created this piece. It was also the reason they made-up afterwards. Orpheus is an ancient Greek legendary hero endowed with superhuman musical skills. During his life, he lost his wife and muse Eurydice and ventured to the Underworld to plea for her return. He charmed Hades, the god of the underworld, with his music bringing him to tears. Through this story, Mr. Hisham wondered what did Orpheus play to bring the underworld god to tears and this was how the piece was created.
3- A Flower in Winter Season
It is a musical piece which he created during the war in Tripoli (2019-2020). Every morning during the war, he was used to a jet throwing rockets at 8:30 am sharp. There was one morning, he woke up before 8:30 am to have his coffee and play his oud. Nonetheless, on that day, the jet didn't show up on time. He decided to play and that's how he created the piece. He played oud until the plane appeared after a few hours and he didn't want to stop even if it would him his life as he described the scene. That piece was a representation of resistance and that beauty can still exist in dark times.
Diverse Music & Musicians in Libya
From Mr. Hisham's perspective, the following artists provided service to Libyan music from an international level and those, as mentioned above, are Ahmed Fakroun and Nasser Mizdawi. However, they didn't get the credit they deserve in Libya. Mohamed Hasan, of course, who received all the support that could have been given equally to other musicians. Malouf reminds him of classical music and he believes that it should get more attention and support. There is a strong need to work on it musically. Moving to Mirskawi which is purely Libyan and this could be further developed and preserved.
"It is good to modernize music but not to take off the Libya touch from it."
In addition, he met many aspiring young artists. Mr. Hisham stated that artists must find a way to include their culture smartly in their craft in order to be accepted within the society. We need to stop commercializing music which requires a focus on creativity. Sadly, the latter lacks greatly in Libya but has potential to be enhanced.
The Clubhouse "Musical" Experience
The Clubhouse experience for him was highly transformative and timely. He always practices alone by himself or with close friends every once in awhile. However, Clubhouse opened space for him to play to a bigger audience. In addition, it provided an opportunity to socialize with other musicians and music lovers. Getting the opinion of listeners and others in the field was quite important to him. He had concerts abroad but not in Libya. Adding the difficulty of movement which was amplified by the spread of the pandemic.
It was a chance to be reflective on his work in a structured way through the platform. But he added that although it is a positive sphere; it is essential not to over-use the space. In other words, not to play on a regular basis in order not to cause boredom to people and yourself as an Oud player.
His Future Aspirations
He is working on the development of an Oud House in Libya. This project is a chance for all Libyans to learn on clear and concise basics. For his projects, his pieces are influenced by the Libyan taste, the Kaska dance, etc. He hopes to compose a full CD that includes all Libyan Maqamat. This would be a rich source for the next generation to start from. Finally, Mr. Hisham's advice to early oud players is "do what is in your mind. Develop yourself and do your research".
Mr. Hisham Errish, amongst many, is a true gem in the musical field in Libya. His authenticity and accuracy in playing are both mesmerizing and mind-blowing. This made me think of all the local concerts we could have had in Libya and could have in the future. We need to celebrate beauty in every form and enjoy the treasures we have in art. Adding this, I hope cultural houses would host more events that focus on local Oud players.
The community in the country is in urgent need for a social artistic renaissance to wake up from its deep coma. This would allow the upcoming generations to simply enjoy the beauty of the diverse Libyan music. Unfortunately, an experience that other generations couldn't benefit from because of the social complex structure and crony politics. We must think of possibilities to develop this scene and enrich the local community through music.
You can follow Mr. Hisham Errish on Facebook: Hisham Errish | Facebook
On Twitter: hisham.errish (@hishamerrish) / Twitter and his channel on YouTube: HISHAM ERRISH – YouTube