Alla was born in Benghazi and raised in Tripoli. He has a degree in civil Engineering and he worked in the field for 5 years but he discovered that it was not for him because it is so rigid and he didn't like that.
There was always a silver lining, Alla said. Alla told me that he has always loved crafty work and he still has a crafts book from his childhood to this day. He loved magazines like the columns coordination in Times magazine, lifestyle and fashion magazines.
During that time, he was not aware of this love and he has always loved cultural and artistic activities when he was part of the scouts. In Libyan schools, there has always been the focus on the same form of art which was drawing class and it was always one class a week.
It has always been a plain session with no interaction or creativity. The dullness of the system blurred out art and kept is stagnant. We lacked the various forms of art like dance, music, crafts, painting, sculpturing. He said and I quote "if we have different forms of art, we may have discovered ourselves early in life and what we actually wanted to do".
Alla's early journey

He did graphic designing at that time and it was during the early 2000s and with his friend, he opened a printing office in his friend's garage where they did designs and modifications for many local clients. They wanted to introduce corporate identity and help clients modify their logos. After that, they opened marketing agency in 2005 and during that time, they started to work with international clients, like BMW, Toyota, SHLUMBERGER, NOKIA, etc. 
The business was thriving and they were doing very well. However, through this business, Alla figured that even as a graphic designer working with clients, you won't have the flexibility you aim for as the client would have a say in what you are doing for them and the work is thus influenced by what they want too.
Therefore, he wanted to do something on his own and decided to start in 2012. He started his own illustrations and these eventually led to pop art. He used to share his work on his private page on Facebook with his friends but he noticed how they all encouraged him to start a professional page so people follow his work.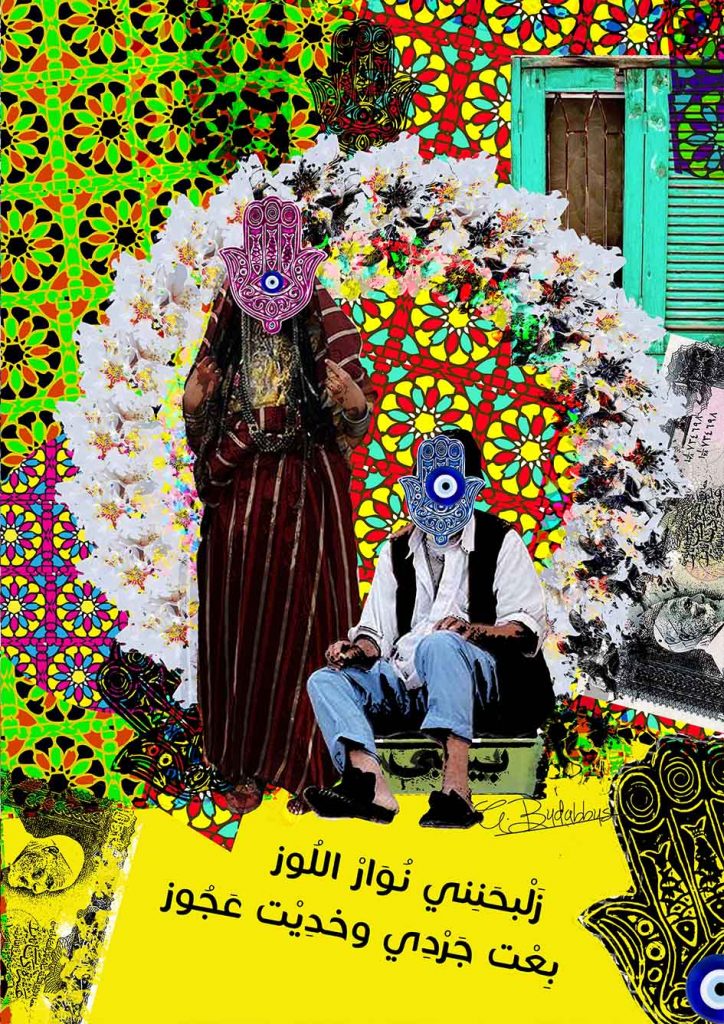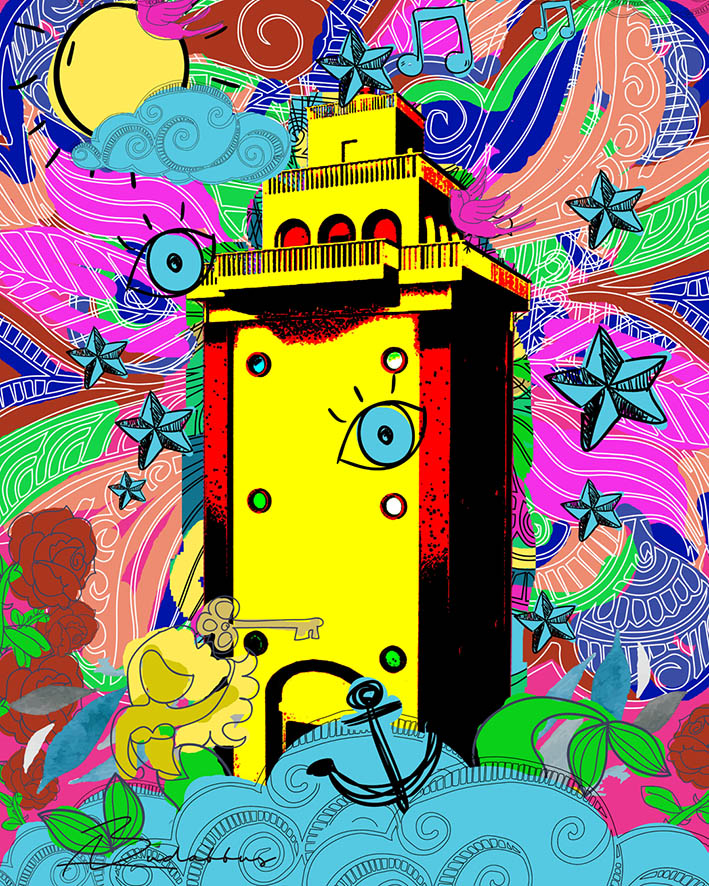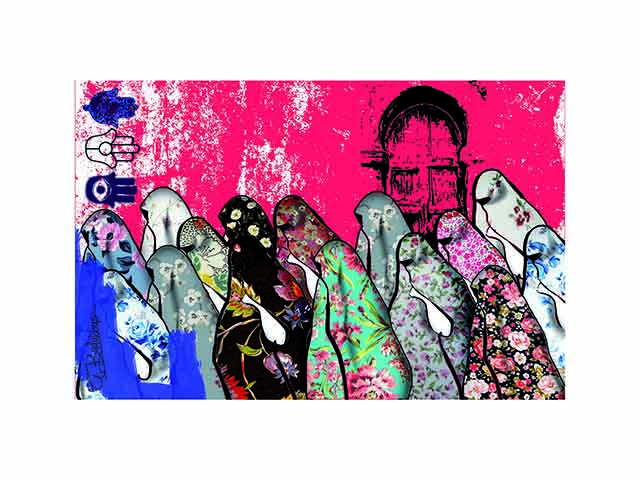 Impact of Art
Pop art is not just about fun, in fact, it is about delivering a deep message. It uses bright colours to tackle many issues and events. It is either you understand the concept or you will enjoy the colours. Pop Art is created to tackled communist societies and criticize them on sharing the consumption behaviour and pushing people to buy more.
It was against turning people into consuming machines and all products produced were the same. Today, in the MENA region, we are through the same phenomena. We are replicating the western world and we are losing our identity as a result. 
Alla has always loved collages and he would cut and paste pictures to create colleges with them and that was before he got to know Andy Warhol, When Warhol passed away, Alla saw his picture on the cover of a magazine and he read his story and was very inspired. With every interview I had in the past two years or so, I get to learn so much about people and their interests and this interview is one of the few that will stay with me forever.
It is a lovely afternoon chitchat but done in the morning instead as Alla described it when we were talking. We talked about regret and its connection to the things we do in life or even the things we end up not doing in life. He said that we should not regret anything we do. One day, you will use what you learned and it will make sense.
"Nothing is wasted as long as you channel it in the right path; you are getting there." 
For him, he does not like definitions, because you cannot define anything in a particular way that is not precise enough. Art is a way of expression, Alla said. He expresses himself through the art he is performing, he put questioning through his work.
He addresses social issues. Also, traditional sayings "Amthal sha'biya" inspire him. A traditional saying is a phrase that consist of deep meanings and he transformed many of traditional sayings into art work (You can see the design on the left).
Alla believes that anyone is an artist and I loved this statement because as long as you put your heart into it. You are expressing feelings and bringing out something only you were able to make it and it is your way of being an artist. Another aspect he likes and appreciates in this process of creating art is the analysis done by viewers and he enjoys what people have to add or say as it opens up more spheres for him to add or ones that he may be absent to.
He is inspired by many artists, on national and international level. He got to know Libyan artists in recent years as the field has been thriving more, for example, Yousef Fteis, Ali Azzubeik, Najla'a Shefitri, Radwan Abu-Shusha, Alaref A'beya, and Al-Taher Mughrabi.
On international level, he is inspired by David Bowie, mainly, the way he presents his music and Andy Warhol, the god of pop art and Jean-Michel Basquiat. In addition, he is inspired by the Libyan female artist Hadia Gana, she is focused and she made a huge impact and shift in the old city of Tripoli. Those people are there to remind us that goodness is still there.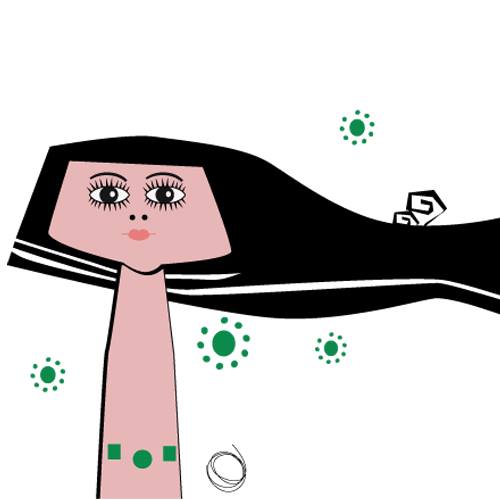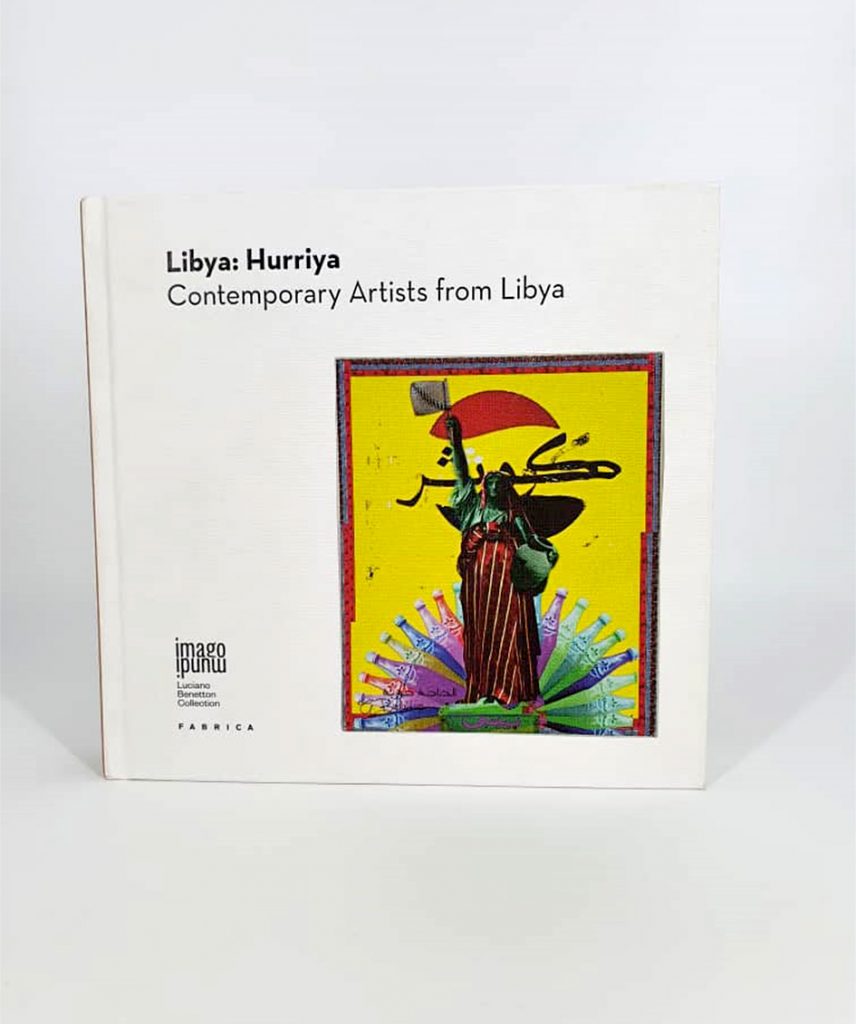 His work "Hajja Hooriya" was used as the cover for Libyan contemporary book done by Imagomonde. It features over 200 Libyan modern artists and that was his first international exposure in 2014. This book gave him the chance to meet many amazing Libyan artists from all over Libya. I asked Alla about the story behind some of his work which I was personally curious about.
We grew up on stories about the war in south Lebanon and also Palestine. The story of the martyr Sana Mehaidli, for his generation, she is a symbol of freedom and peace. There was this painting of her on a building located in Bab Al Aziziya in Tripoli and he used to pass by it every morning. It is always in the back of his head back in the 90s. after 2011, he found it, he was afraid that it will disappear and he wanted to re-draw it and keep it.
It is related to his childhood and he wanted to document it so it does not disappear from our memory and he knew the drawing story recently. He asked about the artist who drew it and they told him that it was done by a professor in Art faculty in Tripoli University, he was an Egyptian professor, and he drew it with his students. Another thing he hopes to preserve in Tripoli's old town is the tiles of this town.
I asked Alla about his feelings. How he feels after this long time of creating inspiring art pieces and the reaction of people to it. He is shocked, he is still in awe that people react the way they do when they see his work. I believe that Alla left his stamp and trademark in a sense.
He never considered himself an artist until many of his work was sold and the impact was huge and he told himself. He could feel the responsibility that he now has. Over 12 pieces of his work were featured in North Africa Pop Art exhibition in London and he was the only Libyan participating in that event with big names from all over North Africa. He could not attend the exhibition though due to visa complications at that time. 
He also participated in retracing disappearing landscapes exhibition with his work highlighting the Ghazzala. Retracing disappearing landscapes was about the missing piece from Tripoli in 2014, the Ghazzala. In fact, the kidnapping of the Ghazzal as I prefer to describe it, he wanted to document important landmarks and things from the Libyan heritage. 

Alla informed me exclusively that he is currently working on releasing an artwork called "Learning IVECO in 3 minutes".
This work is inspired from the famous Iveco vehicles in Tripoli used as a form of public transport. It is the creative chaos. Libya lacks a sustainable transportation system but Tripoli for example, is famous for Iveco buses used as public transport.
He has been observing the signs used by Iveco drivers based on the line of each driver. It is a collective work, when people comment on his work and remember their memories on certain artwork, he build up on them and it enhances his pieces in a sense.
Wrapping up this wonderful interview, Alla shared his advice to Libyan artists and that is for them to collaborate together, competition is good and motivating but there should be real collaboration to work together and not compete within the work.
Moreover, they have to keep on learning and try different materials and techniques. You can come out of your comfort zone. There are no rules as long as it comes from an experience or something you want to present to people. Remember that you are meant to break the rules.
Alla's idea for the future of Art in Libya is very optimistic. In recent years, especially in digital art, there has been transformation within Libya, the quality of the work presented is high and you can compare it with international work.
Social media gave him the chance to meet people from different fields in art and it connected people together. Now, there is an appreciation for art and people are more open to it. There is a cultural preservation in Libya by many people in many fields and this is an indication on where art is going in Libya and it is a hopeful idea for sure.

You can follow his work on Instagram: a.budabbus