Posted on November 28, 2021
Ahmed Raafat is an Egyptian comic book artist based in the UK. He has co-created a noir comedy series, with the Australian writer Tim Stiles, Gorilla My Dreams, about the adventures of an anthropomorphic detective/superhero gorilla, which has been ongoing since 2016. In addition, he is the co-creator of a famous Egyptian comic book, El3osba.
Where the Story Begins…
Comics for Ahmed started as a hobby. When he was a kid, he used to read comic books such as Mickey, the famous Egyptian comic book for kids. Following that, he followed the DC comics. In fact, the death of Superman event and Batman the Animated Series made Ahmed interested to read American mainstream comics.
While growing up, at the age of 10, he was always drawing but didn't have it in mind as a future career. Ahmed is now doing both engineering consultancy and art. After 2015, he moved to the UK and it was time to do art full-time. But for many reasons, he decided to proceed with engineering so he can still have stability while pursuing art.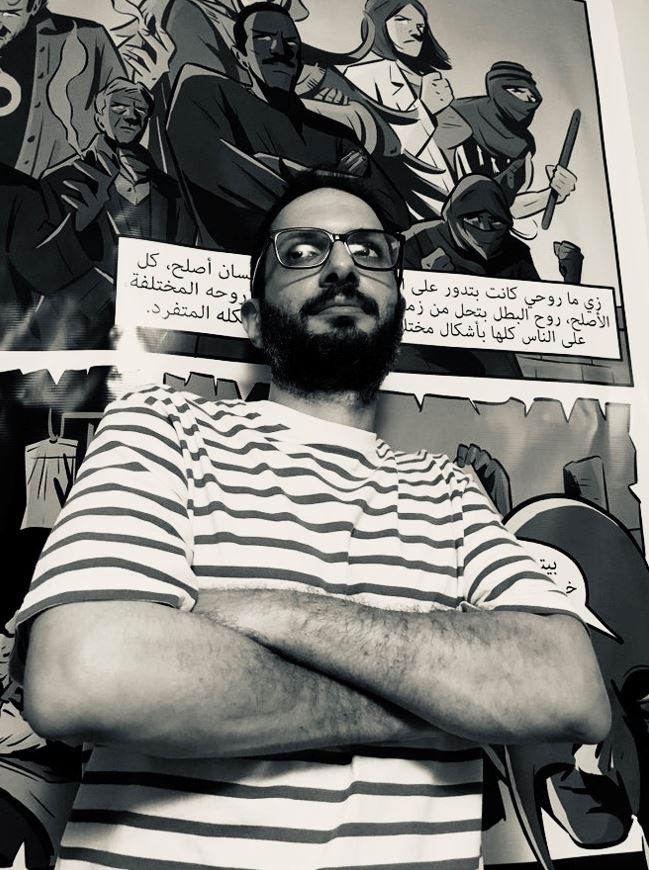 Art, in general, is under-appreciated almost everywhere in the world. There are not many financial awards unless you are very famous within the field. This on its own is considered limited.
However,
When the time came to choose a major in university, he picked engineering. Due to a lack of experience and understanding, he didn't go to Art School. Life moved on and Ahmed graduated and became an engineer and he started a family of his own.
At that time, practicing art was more from the free-time perspective. Of course, he has always liked the idea of publishing his work. By the time he turned 30, Ahmed wanted to seriously pursue comics as a career. This was around 2014 when he met the fellows from the comic book, El3osba and it was the official beginning in the comics track!
El3osba Get-Together
El3osba team met up through social media and Ahmed realized that they have a shared vision. After that, he started sketching possible characters. The initial idea was to create a demo to present to publishers. Nonetheless, publishers in Egypt didn't find it quite interesting. So, the team decided to proceed on their own. Especially that comics are not considered only for kids but it is for adults as well. Comics discuss a variety of issues in societies worldwide and it is a thriving field.
El3osba's first issue was published in 2015. It was also in the same year Egypt has its first Cairo Comix Festival. They were lucky enough as they had the first issue published with the event happening. The team booked a table and the adventure kept going from there.
What is El3osba?
El3osba (Arabic term for the league) is an Egyptian superhero comic book. El3osba consists of six characters in total. It is the production of teamwork with two other Egyptian writers, John Maher and Maged Raafat (Ahmed's comic brother). Initially, John started it through Facebook posts where he shared posts linked to the story of El3osba. John is also an engineer but he is involved in theater and artwork. Maged, on the other hand, a dentist by profession, came in through the structuring of the comic format through his work as a writer.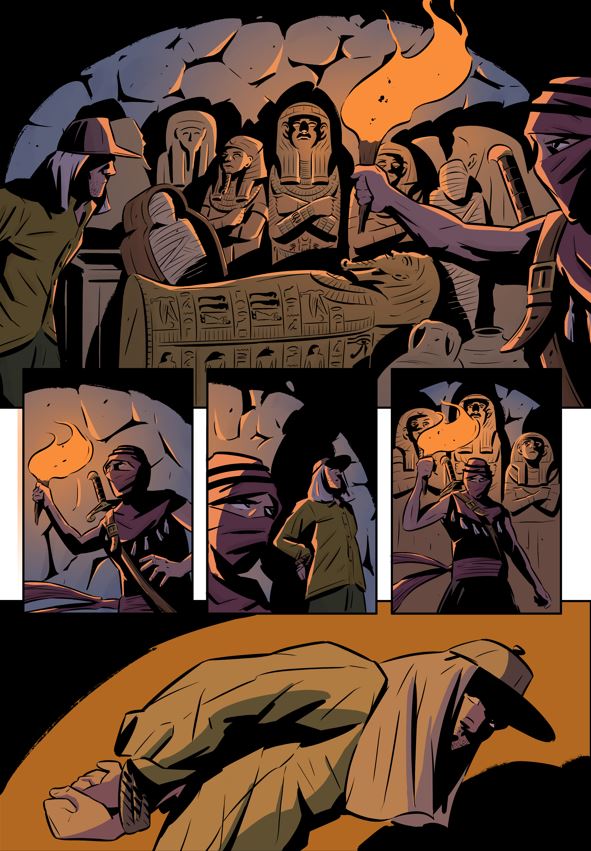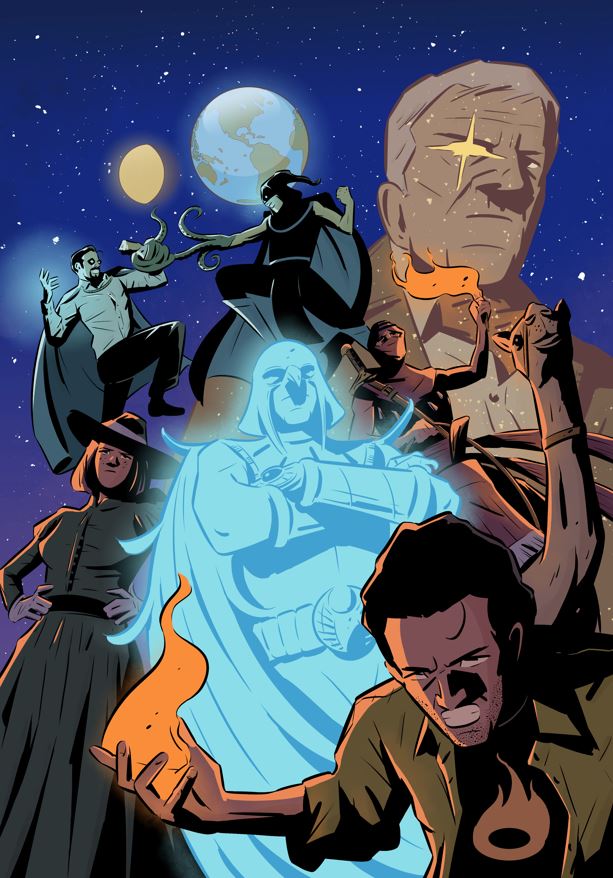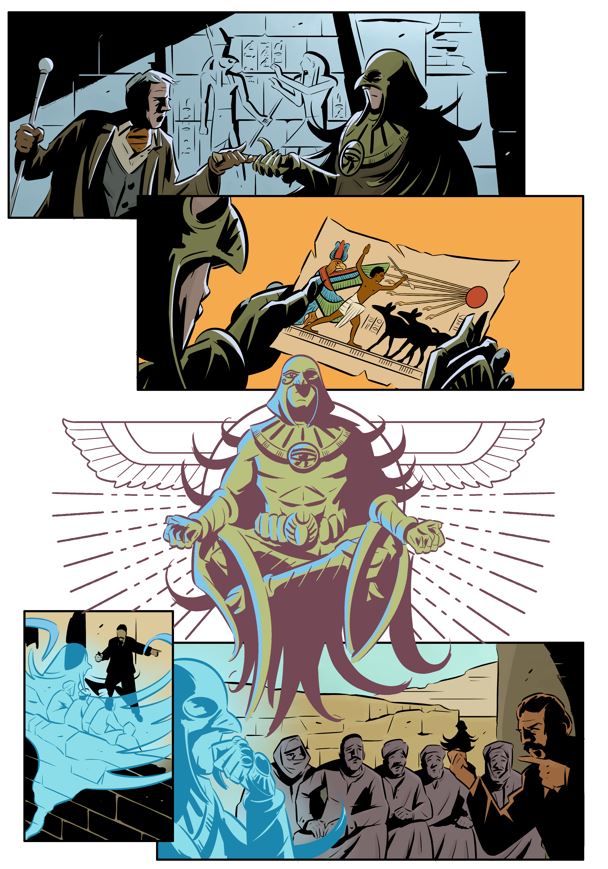 El3osba Characters
First, there is Alpha, a being from a higher realm monitoring the multiverse who chooses our Earth where heroes started to appear in Egypt and decided to bring them together as "El3osba". Horus represents the ancient Egyptian God incarnate. Mariam is an independent doctor who has healing powers. She opposes the Middle Eastern views on women and likes to do her own thing. Microbusgy is a microbus driver who represents the modern-day Egyptian guy. At the same time, he represents the people who are less fortunate in society.
There is also Walhan who origins from Beduins and was part of a terrorist group. He uses his training to fight crime. Finally, Kaf is an intelligence officer. He suffers from multiple personality disorder and both his sides, his real identity versus his "Kaf" identity are always in battle.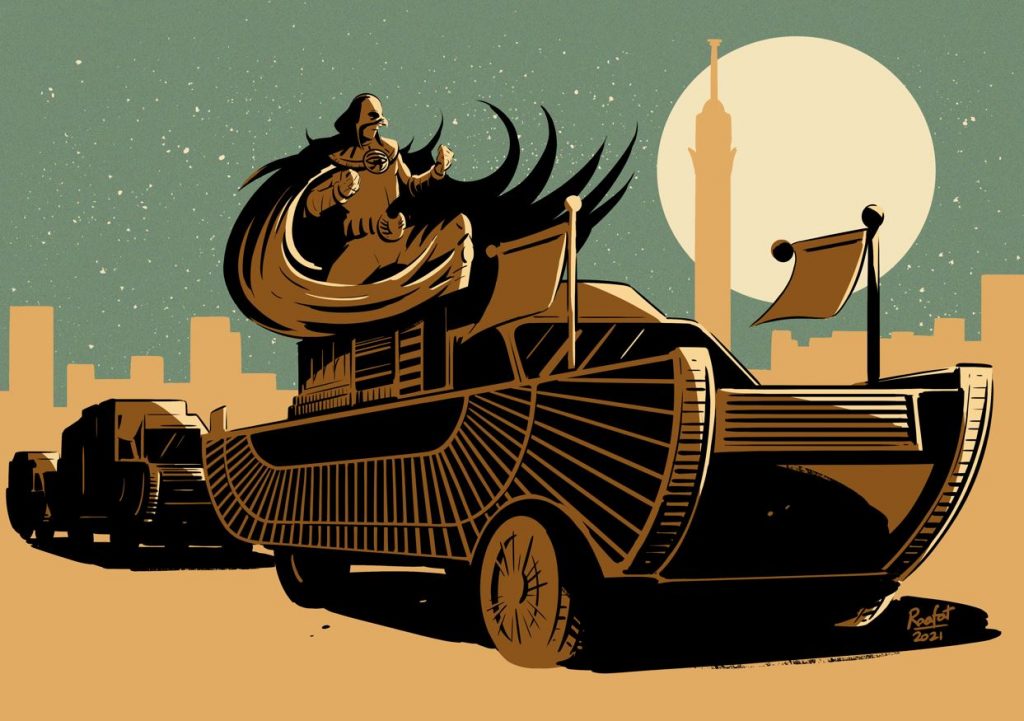 El3osba Published Issues
They published the first edition which was a collection of three short origin stories for Horus, Alpha, and Walhan during the first edition of the Cairo Comix Festival in 2015. People generally enjoyed it but recommended that rather than having short origin stories, it would rather be better to put together a more connected longer narrative.
Then the team made the modifications to the subsequent issues. In 2016, they had two issues published and in 2017, one issue was published. While in 2018, they did three spin-offs focusing on each of the characters separately.
The team depends on feedback from people as the target market for them is in Egypt. For example, El3osba tackled sexual harassment which was Walhan's individual story. Another story linked to journalism and how news is reported was Horus's story.
They make sure to tackle the social issues and add the fiction twist to the narratives. This year, they had an oversized issue coming out with an initiative called Egypt's Dispersed Heritage. It spreads awareness on artifacts during the 18th and 19th centuries and the role of colonial practices in the field of Archeology. Also, the ethical aspect of portraying mummies and displaying them to the public. This topic in particular has been the center of debate in Egyptian society. It could be simply argued that El3osba is an ongoing project that tackles many social and ethical issues within Egypt through many stories.
Challenges, Between Past and Present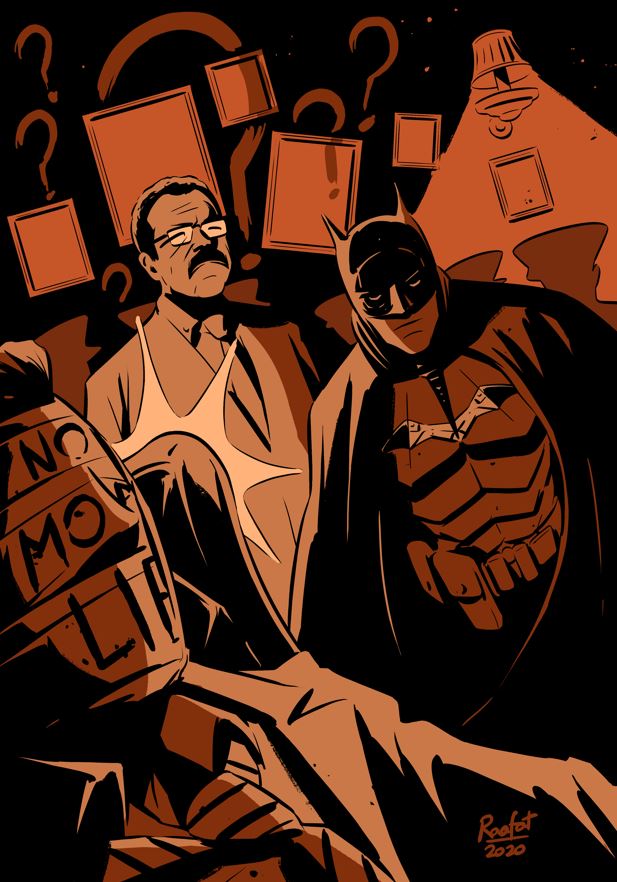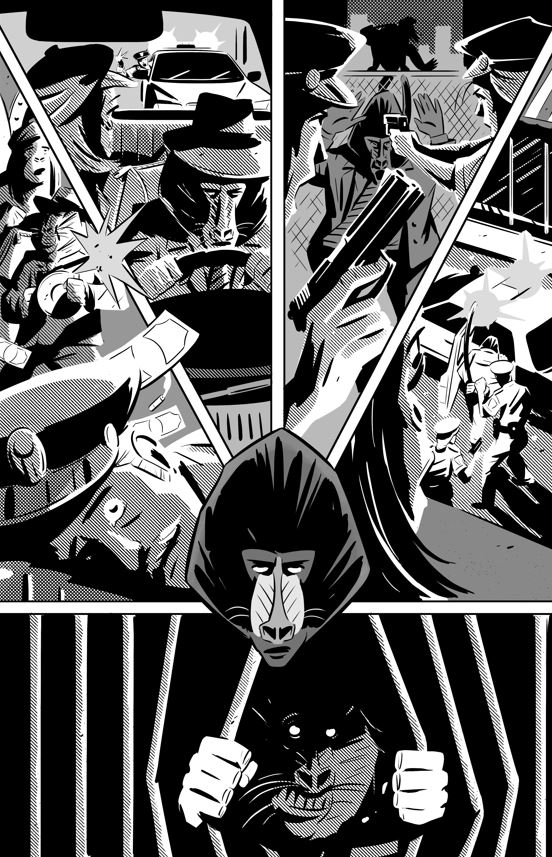 In the past, Ahmed didn't know where to go when he wanted to do comics. Then, he decided to draw consistently so he would remain active at it. He needed something to keep him consistent as it is highly important to develop your skills as an artist, Ahmed added. Nowadays, social media helps greatly in developing to find other artists and engage with them.
Understanding the field through social media and how it works. It has provided an added value for him. Following the progress of other artists' experience which was not available in the early 2000s. It is still a struggle to explain to people in Egypt that art could be a full-time job, not just a hobby. Comics in Egypt don't have the fantasy aspect still, he felt that there was a little bit of resistance from the art scene in Egypt.
Ahmed believes that it went down over the past few years and there is more acceptance. There is a clear and observed growth in the culture around comic books in Egypt. In addition, the comics industry itself faces many problems linked to payment, compensation, and copyrights. However, the art industry is now thriving in Egypt as Ahmed explained. Before, it wasn't perceived the same way it is now.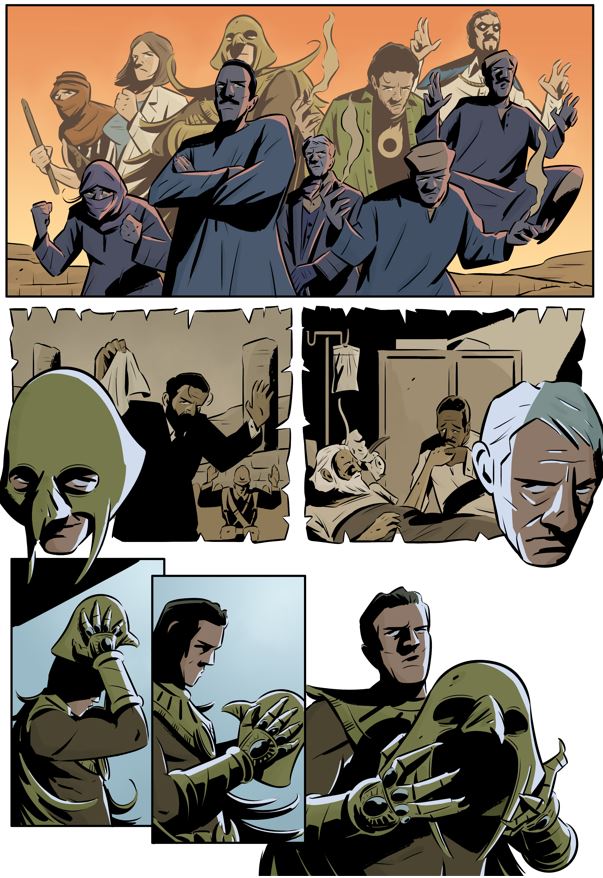 The UK Comics Influence
The scene in the UK is much bigger and it is considered very big for comic artists. There are many events and conventions. Many writers who are big names in the industry are originally from the UK. It was called once the British invasion in comics. Definitely, it opened his eyes to many possibilities. He also worked with many clients in the UK, US, and even Australia.
For instance, crowdfunding is very popular in the UK unlike in Egypt. Crowdfunding could be considered a pay and order system. It could be useful to change how people perceive it in Egypt. Moreover, this system has the potential to help a lot of creatives, especially, in independent fields. Being in this culture has definitely inspired him a lot as an artist.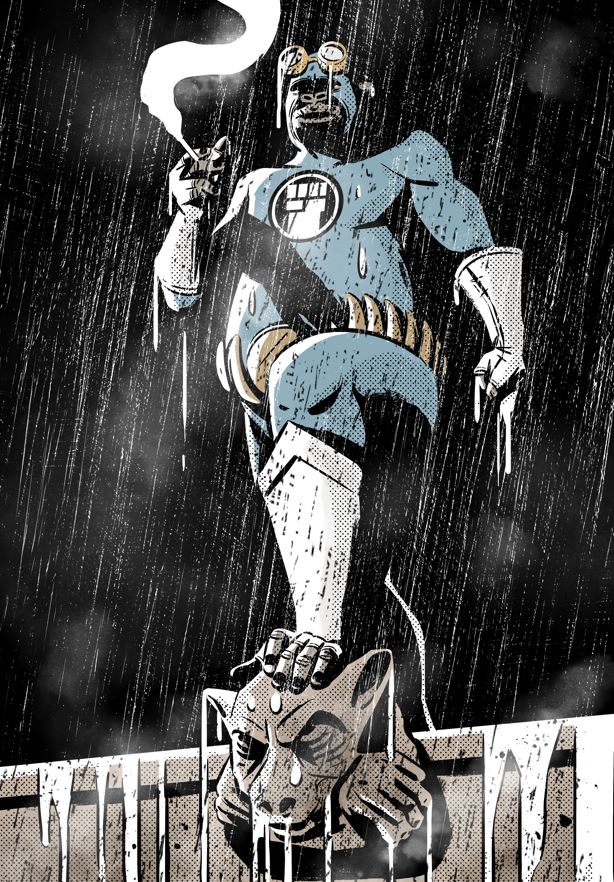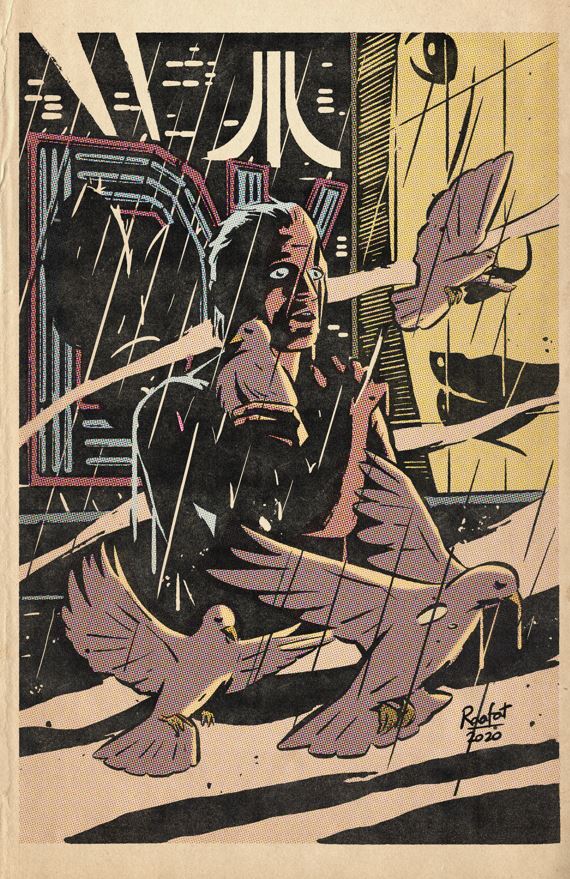 Finally,
Ahmed hopes that El3osba contributes to the development of the comic scene in his home country, Egypt. The best advice he got to comic book artists is to always expand, always look everywhere. Ahmed's advice to artists, comics artists, is simple to make comics.
Currently, there are no limits, resources are available. Don't be afraid to make mistakes. Consistency and practice are two important factors. Social media is a powerful tool, use it to make progress. Make short samples and put your portfolio out there. However, it is important for freelance artists to develop their business skills. Build a network of the right people. One last thing, start small.
You can know more about El3osba on their website: El3osba – Egyptian Superheroes, Comics, Comic Books. Also, check Ahmed Raafat's work: Ahmed Raafat and on Instagram: @theahmedraafat