Through our lives and from a very young age, we get inspired by many things. In the early stages in any child's growing journey, it is essential to raise the child in healthy ways. Books are great sources of inspiration and they can help children be creative and imaginative. During this journey of finding or more like discovering inspiring stories from my home country, Libya, and recently, the world. I came across this artist's account which is full of beautiful comics and illustrations. I knew that I wanted to know her story. In this article, I am sharing with you the story of an inspiring artist from Egypt specialized in illustrating children's books.
Who is Sohaila Khalid?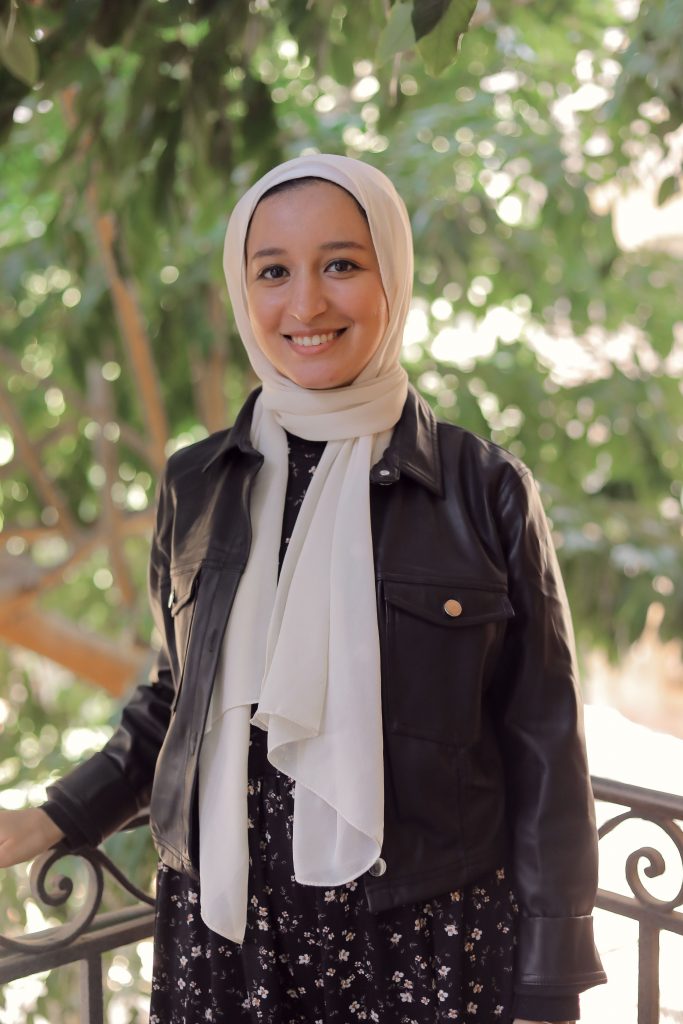 Sohaila Khalid is a 27 years old artist from Egypt, specifically from Al-Sharkiyah district. She is a pharmacy graduate but she has had a passion for art since she was a young child. It was her dream job but due to social restrictions, being a full time artist is not considered a job. The idea about art is to be an art teacher which is considered less than enough.
During her studies as an undergrad, she practiced her passion. However, she was not fully aware of the possibilities. At some point, she realized that her gift as an artist was not in vein. Still, she had the struggles of knowing what she wanted.
In the two years journey, she knew she loved art and this is who she is. Also, she spent five years studying and investing in a very difficult field. Sohaila started to have this dilemma of doing both but it wasn't the case. She decided to do a master's in public health and indeed, she applied for a number of scholarships abroad. But nothing worked out.
Tracking the Signs…
children
Sohaila was active in the famous inktobar challenge during her college years. Someone told her that her work could be linked with children. It was the first sign for her in the field of children's books illustration. Then, she began to collect books and study this filed from a deeper aspect. She followed publishing houses and she wanted people to discover her work. It was in parallel with her studies at that time.
"You are both the master piece and the work in progress"
She finally got an opportunity to work as a comic illustrator with a publishing house in Egypt. It was a deep learning journey as she described it. After graduating, she was assigned to the public sector and she did it because of the social pressure. But it wasn't what she wanted. In fact, it was a huge obstacle for Sohaila since she was not the type of people who liked routine. She worked for about 8 months in the hospital along with her illustration work but she wasn't happy. Being in the public sector didn't serve her in any good way.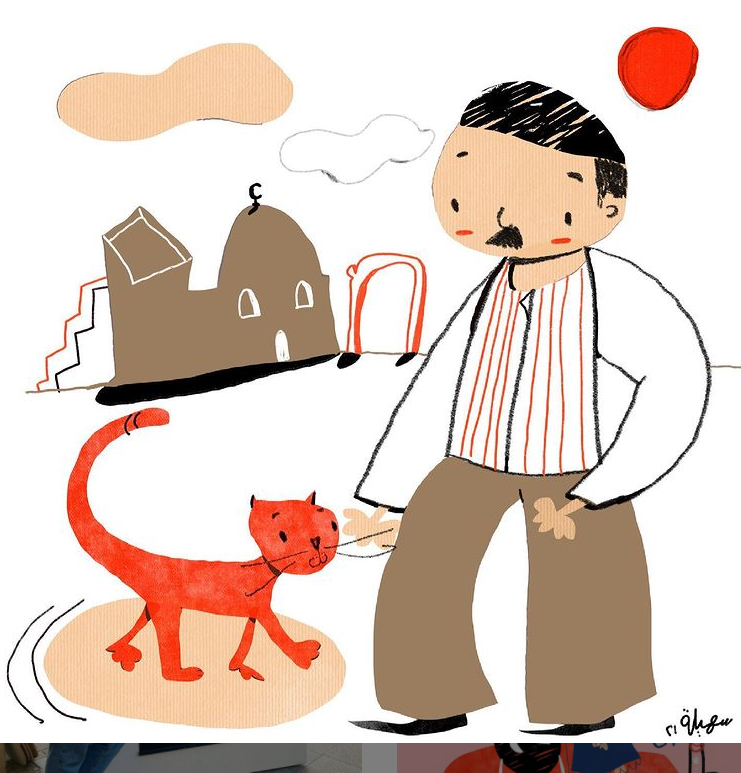 She Followed Her Heart
children
Eventually she decided to quit her job. She received a strong reaction from her family. However, she made a deal with them to take a short break. Then COVID-19 broke in and it was another sign. Slowly, her family began to accept her work as an artist and began to understand her passion. "When you go against the flow, people will not accept it at first and it is as if you are pulling them but you are pulling yourself instead". She took the step and she was achieving things by working on many projects as an illustrator. She started to meet people and go to places that inspire her. The simplest things mattered and she felt that art changed her life completely.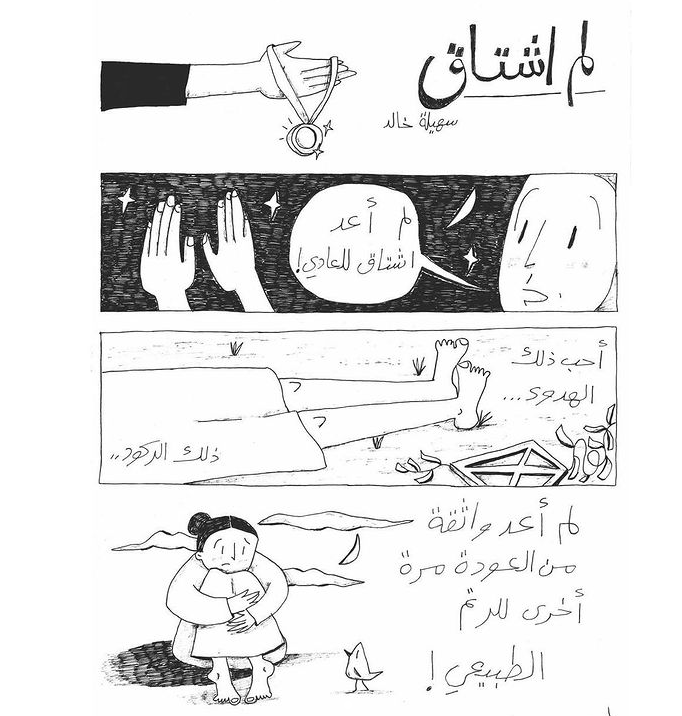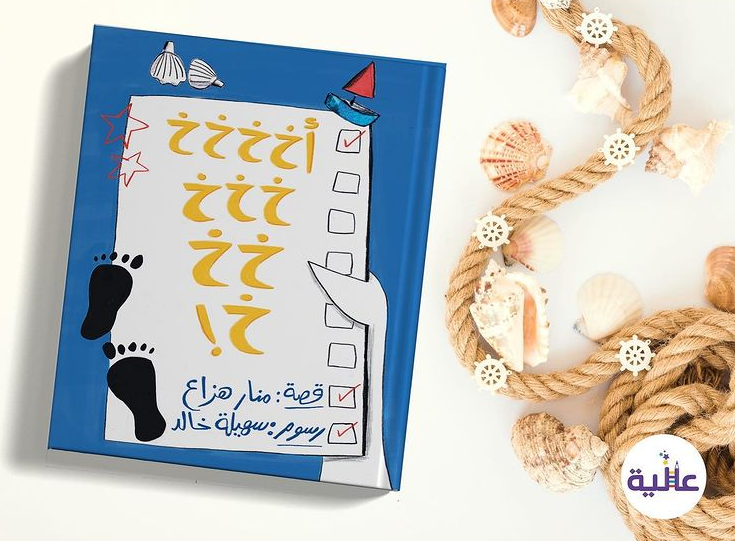 The first story line she participated in was with Noon Publishing House. She received a message from the owner and Sohaila was surprised, in a good way. It was a very intense experience and she didn't know the process related to it. Through her work on the storyline, she gained understanding of the technical aspect of children's books illustration. Sohaila worked on 8 books in total within three months period. Limited colour pallet and simple illustrations were her key style. After finishing the book and it was finally released, she received her copy. It was beyond describable to see her work alive, she was on top of the moon.
Sohaila's Work & Source of Inspiration
The main source of inspiration for Sohaila in the artistic field are Mohieddine Ellabbad and Walid Tahir from Egypt. In addition, to Oliver Jeffers. Her Molokhiyah poster was selected as one of the 100 best Arabic posters. She also participated in Egypt's Art Fair. However, she wants to focus on illustration exhibitions.
Food illustration is not highly available or focused on in Egypt and she wanted to put it under the spotlight. For her, the posters exhibition was another source of motivation to grow even more in the field and discover what it has to offer.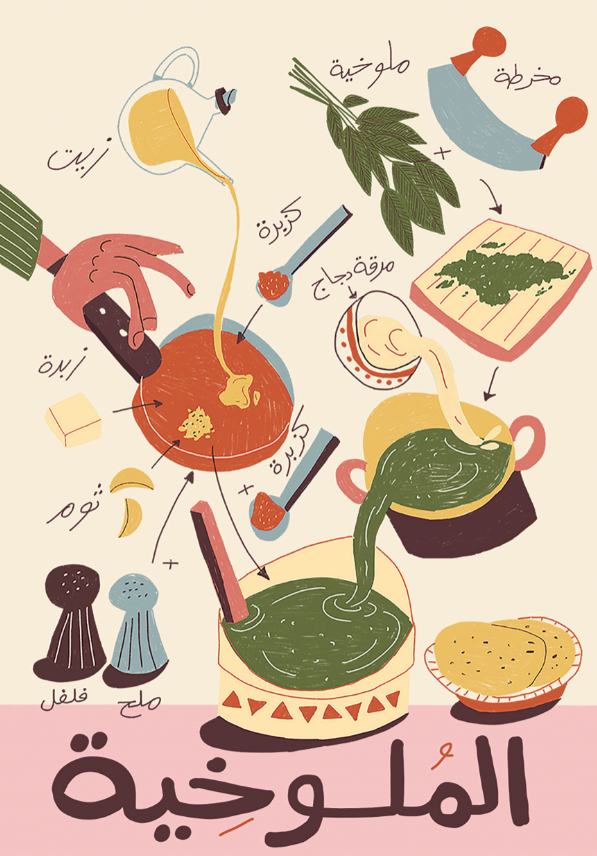 Doing comics for children makes her think of the way she hoped she could be entertained as a child. She is doing what she couldn't possibly have and she wants to help children through her work. The books are part of the child's growing process as Sohaila explained during our conversation. She wants to make stories that would teach the kids in a fun way.
Through the conversation, we tackled the challenges aspect in her journey. The main challenge is to be an artist in a restricting society where they don't believe that art is a way of living. Also, the lack of opportunities in her current place because she needs to meet people and go to many exhibitions. That was the case when she lived in Cairo during her undergrad studies. In the near future, she aims to participate in international exhibitions for children's book and make life-changing books for children. She wants to make a difference in children's lives through her work.
You can follow her work on Instagram: Sohila Khaled (@sohilaakhaled_) • Instagram photos and videos and further check her work on Behance: Sohila Khaled on Behance