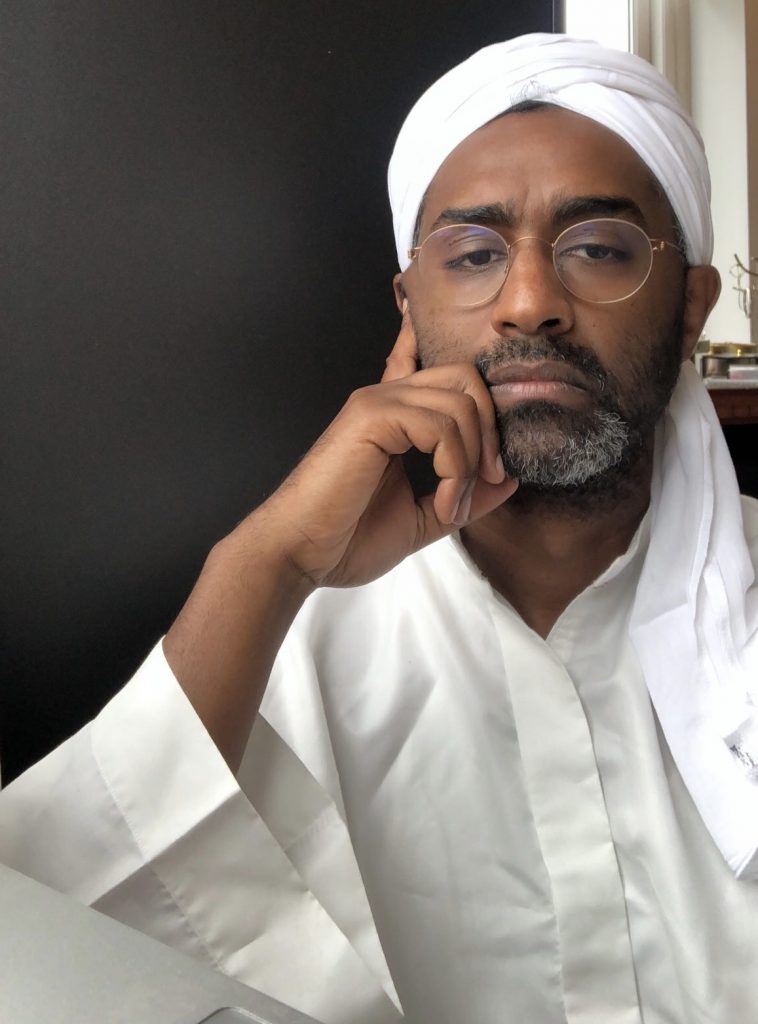 Khalid Albaih is a Sudanese political cartoonist who was born in Romania and raised in Qatar. The great influence of Khalid's artwork led him to be featured in many media outlets such as Al-Jazeera, Jeune Afrique, The New York Times, and the Guardian. I have been following his work for a while now. I am ecstatic that I finally got the chance to interview Khalid Albaih and hear about his amazing career and story as an artist. He is truly changing the world with his pen.
Two years before the Arab spring, he began to create art work related to political matters in the region. He wanted to work for a newspaper but he never got the chance to do it. "We grew up in the internet and the cyber discussions" – Khalid explained to me while we were speaking about the influence of the cyber web early in his life. He is the embodiment of the internet as he liked to describe it. And thanks to the internet, it got him to where he is today whether it is good or bad. The last 10 years have been incredible with what has been happening in the world, Khalid stated.
His Early Journey with Art
Khalid has always loved art. He remembers when he was young, he would stop the video tape while watching cartoon shows in order to re-draw from the screen to the paper. He loved superman and other comic characters. It was his inspiration to draw. ''Sadly, we don't have heroes in our world, the only heroes we knew were on the screen", Khalid added.
He also explained that we didn't have mental visual of ourselves because comics were translated to us and the ones that were ours were childish. His father had to leave Sudan because of the economic decline and the political situation. It was a huge shift going from Sudan to Doha where he met people from all over the world. It is important to mention that politics is heavily imbedded in his family. He started discovering political cartoon through the magazines his father used to bring home with him. Like Sabah Al-khair and Rose Al-Yusuf, both are Egyptian political magazines. It is also important not to forget that he was greatly influenced by Naji Alali, the Palestinian cartoonist who has been described as the greatest Palestinian cartoonist and probably the best-known cartoonist in the Arab world.
Khalid was also amazed by the caricature Mohamed hakim, an Egyptian Sudanese cartoonist, who worked for Sabah Alkhair. His brother was another great caricature Hasan Hakim. Khalid got the chance to meet Mohamed Hakim when he was only 17 during his visit to his brother in Cairo. This was one of his most memorable memories. During his rich career, Khalid worked in Qatar museums before 2011. At that time, they were opening the museum of Islamic art. It was very eye opening for him to be part of that process and also important. It gave him the chance to see how much Islamic civilization cared about details, innovation, design and art as a whole. He did cartoon since 2011 under a different name which became his name now "Khalid Albaih".
2011 Revolutionary Spark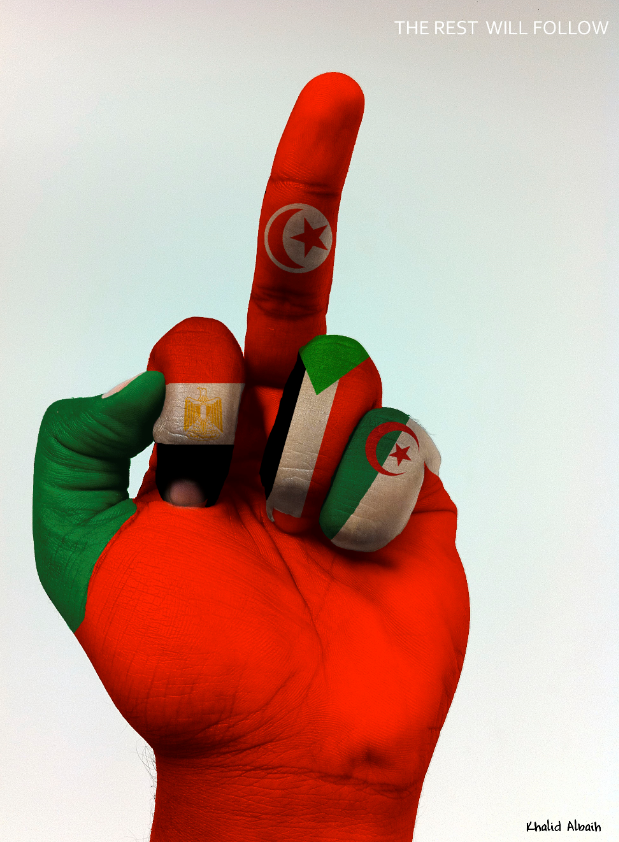 During the uprisings or as called "the Arab Spring" in 2011, so much was happening even in Sudan. He felt that it was a changing time for the region though it already started in Tunisia. He predicted in the cartoon which was titled "The rest will follow", that the revolution will follow in other countries within the region. And his prediction was right! Some countries started a revolution which is not over to this day. While others had many revolutions throughout the past 10 years. This artwork was heavily used on social media platforms and it went viral.
"The transformation was from Facebook walls to real walls."
From there, he focused on doing work about all the protests that took place at that time. Activism was also about tweeting, posting on Facebook, retweeting from all the different regions. Also, through writing articles. He still remembers a video shared by Aljazeera about the first protest in Libya. It showed a cartoon of Gaddafi on the wall and people were throwing at it. Witnessing that, it was vital that there was no turning back from there.
Khalid's work has been used by many news outlets. It was classified as creative commons comics, which meant that it was free to use and share. Wikipedia articles were translated by one of his friends. He then suggested to put Khalid's work on Wikipedia. It was when he was introduced to creative commons license. After that, people started to use his work. It got a lot of views and was shared a lot between people. He believes in having open space knowledge and sharing. He learned through the internet and it was in way as if he is giving back in order to continue the inspirational process for other artists.
Khalid's Reflections 10 Years Later
When the region was standstill from the 1980s until 2011. Sudan had had two revolutions, one in 1986 and the second in 1989. As mentioned earlier, Khalid grew up around a lot of politics and open discussions. In 1989, when Omar Al-Bashir, the former president of Sudan, came into power, a lot of things changed in the Sudanese society as a whole. There was a huge difference from Sudan in the 80s and Sudan in the 90s.
However, Protests in 2019 changed the narrative in Sudan but let's not forget the regional political influence. From anti-Islamists and the counter revolution that was happening. In addition to the rise of Mohamed Ben Salman in Saudi Arabia. Artists have always been a target by authoritarian regimes and Khalid has been a target too because of his work. Doing political cartoon had made him question the process and the journey as a whole, especially the last four years.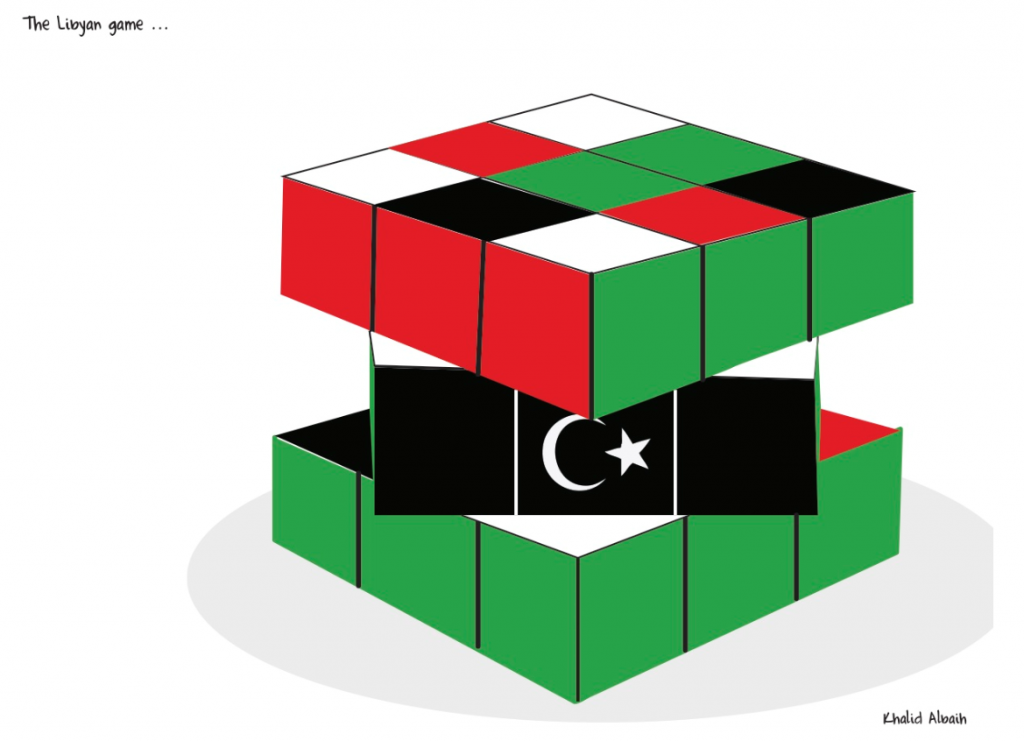 "This is a fight that you will never win, Khalid told himself."
It makes you question your values and the rights people demanded. Especially after 10 years of being emotionally involved in issues that are considered bigger than him as an individual. He has faced the fear of being hacked and trolled. It was a scary time of course for him. He watched friends move further from the place they fought for and call home or watching them go to jail. Some chose to disconnect their kids from political life and to have a different life. He always wondered about this for a long time but he totally understands it now after having kids himself as a cartoonist.
Hopes and Opportunities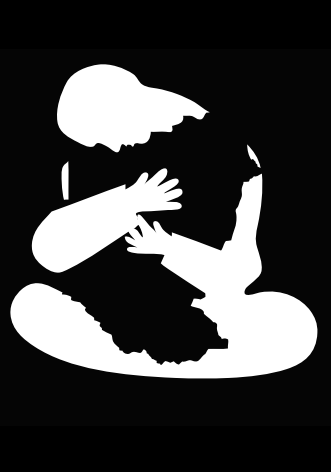 He believes in giving back support and to help artists who didn't get the opportunities he got. Thus, he started thinking about doing a lot of projects especially during COVID-19. Sudan lacks artistic institutions and many artists are changing the narratives that existed before. Fadaa (Space) is the first project and it is about donating spaces and facilities to your community. For example, a 3D machine, a space in a garage. The person can post it on the website and people will apply for it. It can either be a free Fadaa or paid for people who are working.
Another project called Sudan arts and design library. In 2018, Sudan Retold comic book was created with Goethe institute. In collaboration with 31 artists to tell stories about and from Sudan. Khalid noticed that there were no comic books in Sudan. Therefore, he decided to have a mobile library with programs and music and they are currently designing the elements of this project. Sudan Artist Fund is the last project Khalid is working on. Through this project, they crowd fund to support Sudanese artists and political cartoonists. Every month they choose an artist and they give them cash to work. These projects are essential to develop any sort of real art. However, funding is what lacks these projects in order to continue the progression and develop the artistic scene in Sudan and the world as a whole.