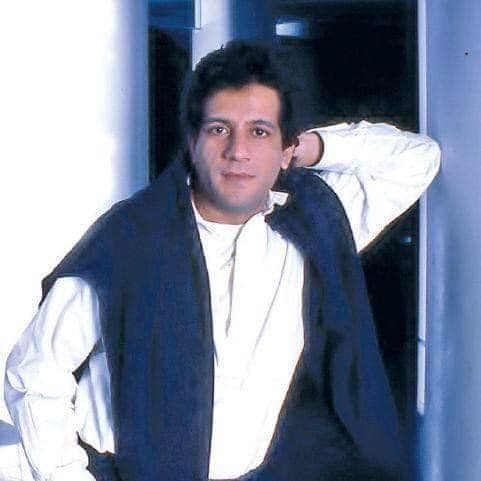 Ahmed Fakroun, who was born in 1953 in Benghazi in eastern Libya, is a singer, songwriter, and composer. He is considered one of the pioneers in establishing what is known as modern Arabic music. He founded a band in 1970 and played in local theatres and venues but soon traveled to the United Kingdom to study. After a while, he established the first band in England, with which he succeeded.
In Libya, the presenter and actor Ali Ahmed Salem presented him to the public in one of his programs. As a result, the phenomenon of "Fakroun" music spread, and his record spread. He dreamed of an Arab band and headed towards Beirut, the cultural capital, in 1977. In Beirut, he searched for musicians, but Beirut was going through a civil war. However, he sang a beautiful song for Beirut titled Beirut ya Beirut.
Between Different Stops
He returned to Benghazi and then to Italy, where he cooperated with the Italian international company, Ricordi, and produced his record for him. It came as the first Arabic CD produced by a global company, and its success increased daily through European media. Radio Monte Carlo TV in Monaco and Radio Monte Carlo were the first two stations to interview him. Then came the Italian Channel Five. As a result of these meetings, he received thousands of letters from fans and companies requesting cooperation with him.
In 1977, during Midem Music Festival in Cannes, Fakroun's vinyl record was chosen as the first record in Europe and South America. After this significant achievement, International companies rushed to work with Ahmed Fakroun. Including the French company Polydor and the Venezuelan company Colombia.
An International Musical Experience for Ahmed Fakroun
Between Milan and Benghazi, he received an invitation from a French company asking to print a cylinder for him, but he headed to London. It is where he carried out a new work titled City Streets in 1982. Once again, he returned to Paris and worked with a French company that printed a record for him.
In 1999, he filmed the song titled 'Aber Ya Zaman,' one of the songs that simulate the philosophy of time between the ancient archaeological and historical cities that knew the rise of civilizations in Libya and North Africa. Also, as those that witnessed the deepest historical eras in the Mediterranean basin.
Fakroun's musical work manifests the unspoken through mundane conversations and transcends all emotional and cultural barriers, temporal and spatial. He succeeded in elevating Libyan music to international levels and connecting with people worldwide. Indeed, this brief article doesn't give Fakroun's incredible musical career justice. However, I hope one day I get to interview him for a detailed and in-depth conversation about his inspiring career.
Please note that I collected the information for this piece from different cultural pages on Facebook and articles from various journals.