Posted on October 11, 2021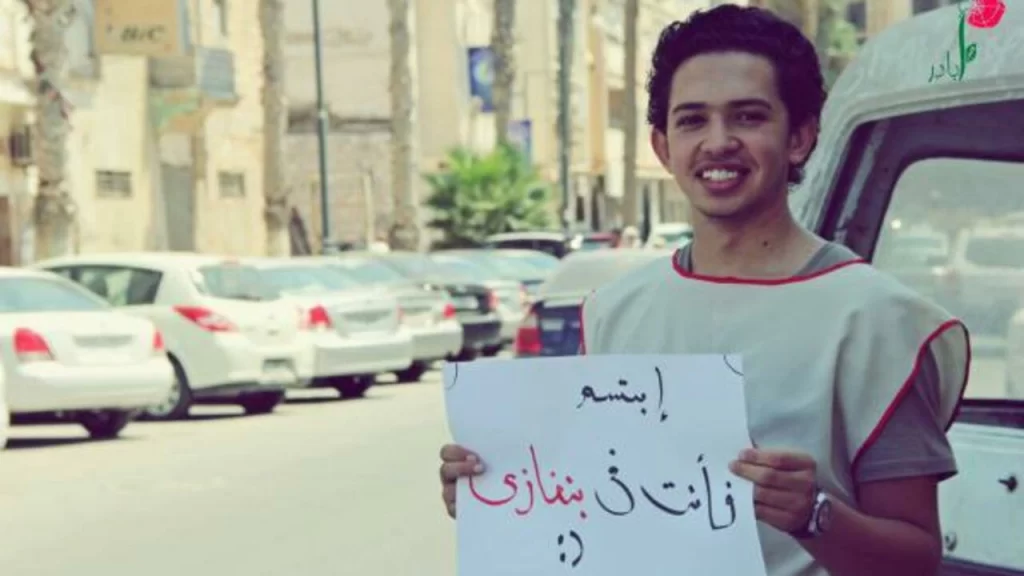 It has been seven years since the Libyan activist and blogger, Tawfik Bensaoud, was assassinated with his friend, the activist Sami Kuwafi, by unknown armed men. They were both very young, 18 and 17 respectively, but their influence was huge. Seven years may have passed but their memories are still alive within Libyans and everyone who personally knew them. Since 2014, the political, economic, and social situation in Libya has changed drastically. The country went into turmoil of events that made the situation extremely complicated for citizens.
In this article,
I wanted to write about the Libyan activist Tawfik Bensaoud. However, no words are enough to describe him or his personality. So I had an interview with his sister, Doa Bensaoud, to tell me more about Tawfik. I first wanted to know how Tawfik was as a child. In fact, he was an active and easy-to-love child, he was older than his age. Doa explained that he was very intellectual and social. In addition, he enrolled in the Scouts at the age of 7 and he was a leader by nature. The scouts made the leadership in him become very visible. Doa used the term "exceptional" to describe her brother.
The scouts left a huge impact on him and it was clear through his activism. He loved working and sharing knowledge with other people. Doa narrated an event when Tawfik was in high school and his sister was in 9th grade, a parent came to school and saw Tawfik. Shockingly, the parent told him that he never thought that he was still in school. His actions spoke volumes and made him seem older for his young age. They reflected positively on the people around him. Doa, Tawfik's younger sister, spent so much time with him and she learned so much from her brother's loving and kind personality.
The Libyan Revolution
The revolution in Libya had a huge impact on Tawfik and it was a transformative period for him. It gave him the chance to meet people who shared the same values as his but also those from different backgrounds. After the revolution, he started to actively participate and became involved in debating. Hearing Doa's voice and the way she was telling me about him was very emotional. Tawfik initiated many campaigns linked to the right to voting in the elections and political activism. Moreover, he initiated Benghazi Al-Khair then went to Tripoli to be part of Tripoli Al-Khair. He focused so much on peace and youth and raised awareness of the importance of volunteering.
"If those who killed him knew Tawfik personally; they wouldn't have assassinated him".

Doa Bensaoud
Tawfik's Love for Libya
Doa believes that Tawfik was born for this impact, the impact he made and left on everyone. He believed so much in youth that they are the real change-makers. Youth has the right to elect, to understand what is happening, but most importantly, youth are aware of their environment. He believed in youth but, she added, he strongly believed in Libya. She told me one of Tawfik's words when he described our country, Libya "I have great hope in Libya regardless of the pain I feel for our country".
Tawfik loved Libya in a very deep way which is why his language was very insisting in his work, especially after the uprisings. Doa added that Tawfik believed in Libya like no other person. He truly believed that a bright future is ahead of us. His aspirations were to see Libya as he always wished to see it, in peace.
He never lost hope. Anyone who met him in person or followed his work saw the presidency qualities in him. Tawfik Bensaoud, the young Libyan president who left us too soon by those who killed him. I strongly believe that his strength and courageous personality scared those who planned and committed his assassination. Tawfik's message to youth in Libya "Libyan youth, you are strong, you have the possibility to make change; what you need is to seize the opportunity and to work on it only".
At the end of the interview, I asked Doa what did Tawfik hope for Libya and she said "He hoped for Libya the best, all the best".