Posted on December 12, 2019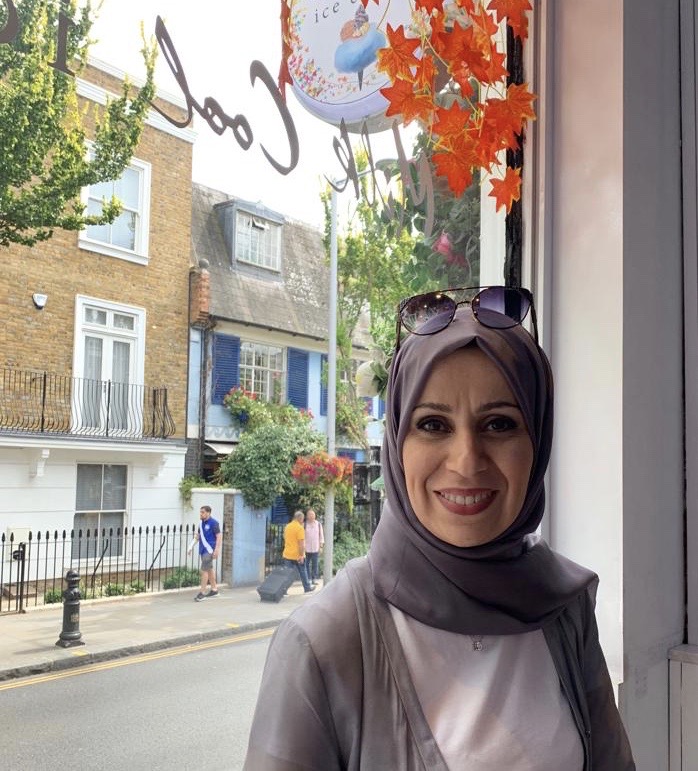 The progression of any society is not fully accomplished without the contribution of both males and females. Education is key to further developing countries and communities. Women have been taking leading positions worldwide and they are part of the change-making process. Personally, I believe that Libyan women now are contributing more and more. Due to the circumstances, the country is going through. Also due to personal advancement and progression which has been apparent in many fields. As the year comes to an end, I started earlier this year to put amazing Libyans under the spotlight. Through giving them the recognition they truly deserve. Yusra
In this article, I am highlighting another inspiring Libyan woman in a leading position and she is making progress and development in a higher education institution and her name is Yusra Mouzughi. I got in touch with professor Yusra a few weeks ago. Informing her of my interest in writing an article about her. I have been personally inspired by her work and lovely personality. Nonetheless, she was very welcoming of the idea and we had a lovely conversation to come up with this piece.
The Beginning of Professor Yusra's Story
I first asked her about herself and her childhood. Professor Yusra grew up in a typical Libyan family and left Libya when she was only 7. She described herself and I quote "I was quite studious as a child but was definitely not the cleverest of my siblings." However, they moved to England because of her father's work and it became her home away from home for 34 years before moving to Oman four years ago.
You can tell from her tweets and engaging with people that she is quite outgoing and social. Professor Yusra has a Bachelor's degree in business and management. Then she went on to do an MBA from Heriot-Watt. Finally a Ph.D. in Knowledge Management from Liverpool John Moores University.
She had a major car accident during her Ph.D. which left her in a wheelchair for a while. With multiple operations, she managed to pass that period with lots of support from her husband and loved ones. Professor Yusra finally gained her full recovery.
We always have to be reminded of downtimes because achievers are normal people. The only difference is that they don't give up quickly. Instead, they push through life struggles and events to come out stronger and better.
Moving Towards a Dream
Yusra
Throughout the interview, I asked her about her dream. Defining a dream is different from one person to another. A dream is made up of the individual's personality, hopes, life-changing events, lessons, etc. A dream grows with us from an early age. It is similar to seeing the light at the end of the tunnel. With every step we take, we get closer and closer to it. It can also be described as a growing tree. It starts as a tiny seed. The more we take care of it and water it, it will grow into a big tree. We can define a dream in many ways. It was a bit surprising to know that professor Yusra never thought about being an academic or a vice-chancellor.
She didn't have a very clear career path. However, she knew that she wanted to be recognized for her own independent identity. Not by being someone's daughter, sister, or wife. I admired her answer so much and it reminded me of myself. The paths I took and the ones I am currently taking through the journey of growth so far.
Professor Yusra's Career
We also talked about her career paths and her beginnings early on. She started off working in an insurance company in Bristol. She worked her way up in that sector. After that, she realized that some research in the area of Knowledge Management in Financial Services was much needed. Therefore asked her then-boss to sponsor her on a Ph.D. He agreed and she started her journey in a Ph.D.
Shortly afterward, the University offered her a position to do some teaching and she switched careers and moved into academia. She also had to do some certification to allow her to teach. Thus, she was juggling a new career, a Ph.D., a postgraduate certificate in teaching, and a 3-month-old baby. However, professor Yusra described this as fun! She is a superwoman for sure!
After that,
Professor Yusra joined Muscat University as Deputy Vice-Chancellor Academic Affairs in January of 2016. She was then promoted to Vice-Chancellor in August 2017. She has had and continues to have the most amazing time. As a new university, she has been fortunate to oversee the development of the university from scratch. Very few people have that kind of opportunity. This though does mean that you have to multitask and be very flexible and willing to think outside the box. It has also exposed her to Arabic culture which she had not really experienced before.
Although

She has left Libya from a very early age and she didn't experience work nor study there. She has a bit of general advice she would give to working women in Libya. Also to those pursuing careers or academic paths. Believe in three simple principles: Always be open to new challenges and opportunities.
Always ask – the worse that would happen is that they would say no. And finally, believe in yourself but also remember to be kind to yourself. These are very important reminders to keep in mind throughout the journey of life. I will personally keep them in mind. One of her favorite mantras is "look, listen and learn – before you open your mouth to speak''. This is a reminder that listening is an essential skill to keep and develop. It is not always about speaking or giving an opinion. If you are not open enough to listen to people's opinions and ideas.
————————————————————————————–
This interview was very much enjoyable thanks to Professor Yusra. I would like to thank her for being open to the questions and the advice she gave. She is truly a role model and an amazing woman who managed to prove her way with the support of her loved ones which is important as well. You can follow her through Twitter on her journey as vice-chancellor of Muscat University: Mouzughi. Please note that she now holds the position of the President – Royal University for Women, Bahrain.