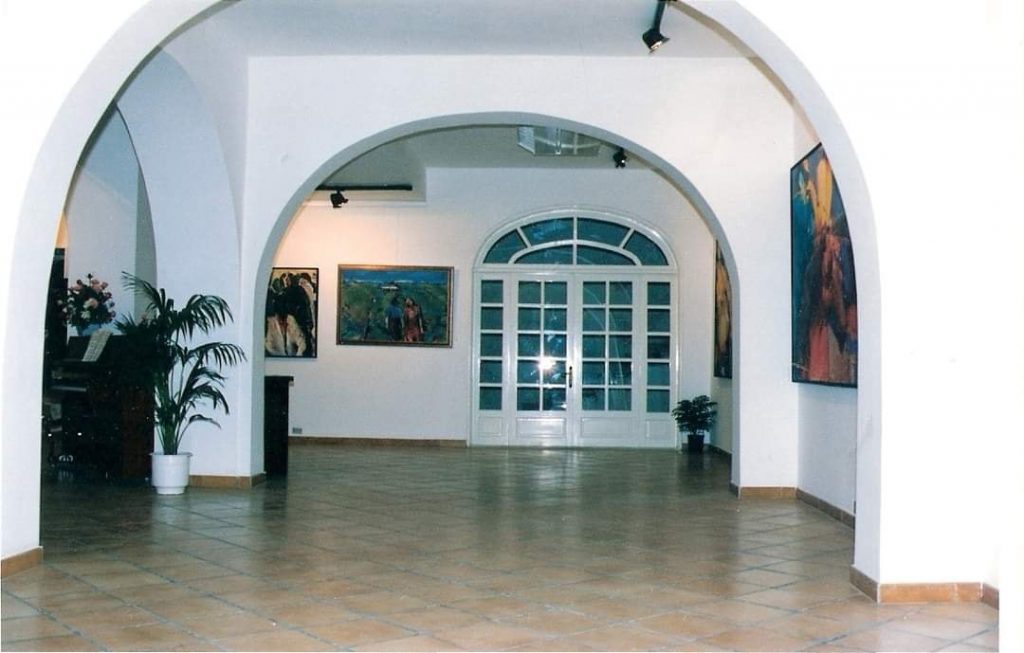 Cultural and historical heritages are crucial variables of any community. These heritages are valuable treasures and people must preciously preserve them. Thus, it is important to understand that Art is important for the development and progression of the society. It is sad to see how art and culture have been continuously targeted by many extremist groups in Libya. They opposed its existence, even in Tripoli the capital. Actually, they feared its impact because it lightens up minds. The culture of erasing traces in Libya has been singled out in the last decade by the owners of the past Islamist currents.
Libya has been deprived of cinemas, theatres, and houses of culture for so many years. However, whenever people set out to establish one of them; they discover that its ownership is controlled by those who have radical Islamic personalities. A few months ago their target was the Manuscripts Centre or as known "The Libyan Jihad Centre". Intellectuals and activists in Libya gathered online and called out the authorities to stop this act of nonsense. It is a beautiful and ancient building that contributed to the cultural movement. In addition, it holds valuable manuscripts and books that document important periods in Libya. Many historical and cultural researchers and activists throughout the years have found value in this centre.
Previous Cultural Targets
Nonetheless, such acts are reminders of many other events. For example, how could we ever forget the kidnapping of the Gazalla statue from Tripoli? A beautiful statue which provoked sexual repression for extremists, and preferred to preserve their chastity by uprooting and selling it. They thoughts its price would be in their pockets atonement for the sins that took place behind her. In Benghazi, several cultural projects have witnessed attacks and suspensions of their activities. For example, Tanarout Association for Libyan Creativity. They announced last December that it has suspended all its cultural activities until further notice. It was due to the continuous attacks they had from extremists.
Finally, a few days ago, the Islamic Call Association demands the return of the House of Arts. They stated that they wish to build a market in its place. Many narratives are circulating online about the house. One, the association claim the ownership of the building. In fact, the state owns this building. The Islamic Call Association issued a statement on Facebook stating that the House of Arts have not paid the rent since the 1990s.
They now claim the ownership of the building after all these years. This narrative remains sceptical and due to the strategic location of the house, it is now a target. It makes you question why they chose this time. Why haven't they called for its ownership in Gaddafi's time or even post independence in 2011? The house of Arts is an ancient institution and is one of the most important cultural platforms in Tripoli. Many art exhibitions, seminars and poetry evenings have always been organized. It has also hosted prominent personalities and foreign guests to introduce and highlight the cultural face of the city. Many generations, and myself, have special memories with this place.
The Voice of People
Many artists, writers, and poets in Libya have been calling out to stop the destruction attempt by the Islamic call. The Libyan poet Fatima Azzahra A'amoum wrote on Facebook "A country that kills art, we have no life in it". A page has been created on Facebook which is collecting names for a petition to stop this act معا ضد هدم مبنى دار الفنون بطرابلس | Facebook. You can check the page and leave your name under the petition post. There is also another petition issued in the following link: Pétition · بيان بخصوص محاولة هدم دار الفنون في طرابلس من قبل جمعية الدعوة الإسلامية · Change.org.
The preservation of monuments of cultural value is the preservation of the country's identity. Thus is what is happening in all countries of the developed world. The development of countries is always measured by the extent of their ability to establish museums, cultural places and landmarks. Our cultural heritage is currently in danger from those evil minds. I am deeply sad to see them living amongst us in Libya and trying to erase any trace of beauty.