Posted on September 5, 2021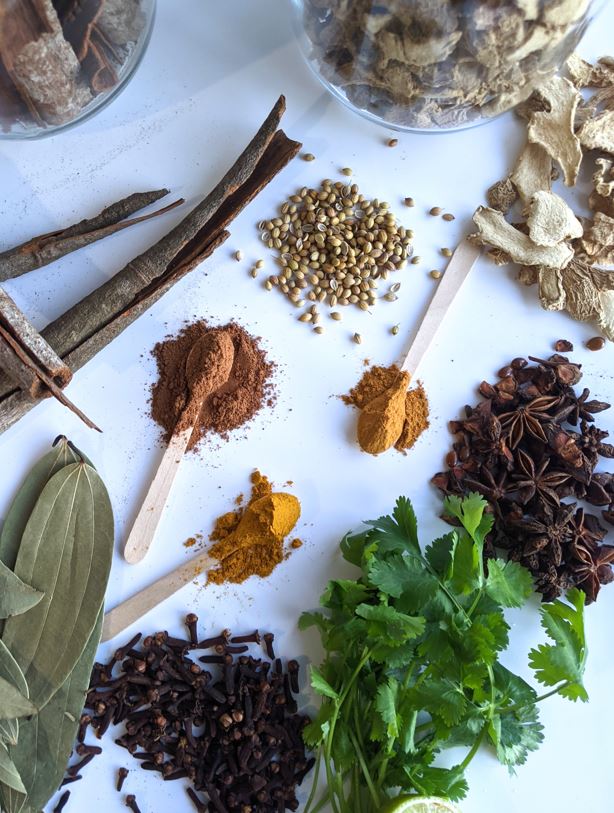 People from different nationalities in the diaspora are deprived of being close to their home countries and the uniqueness of their communities, especially when it comes to food. If you ever meet someone living abroad away from their home country. Ask them what they miss the most. They would probably say food first. It is the case for Libyans abroad, too. Living abroad means that you will probably miss out on the authentic Libyan taste in your food due to the lack of spices. Oea
For Libyans,
Spices are crucial in the food-making process. I struggle with it being a Libyan in France. Whenever my father came to visit, he used to bring a variety of spices. However, with the outbreak of COVID-19, I no longer have access to Libyan spices. It has been almost two years already! Especially that not a lot of Libyans live in France. There isn't a vibrant community like the Moroccan, Tunisian, and Algerian communities here for easier accessibility.
A couple of weeks ago, I discovered an online business that provides fresh Libyan spices in the UK. I knew I had to give it a try. For me, it was like finding a gem. I ordered some to try out, and the quality was excellent. It was apparent how freshly made the spices were. So I realized that I must interview the owners to know more about their stories. So I reached out to them, and they gladly welcomed the idea. In this article, you will see the story of the Libyan spices business, Oea, through the founders.
Oea & The Founders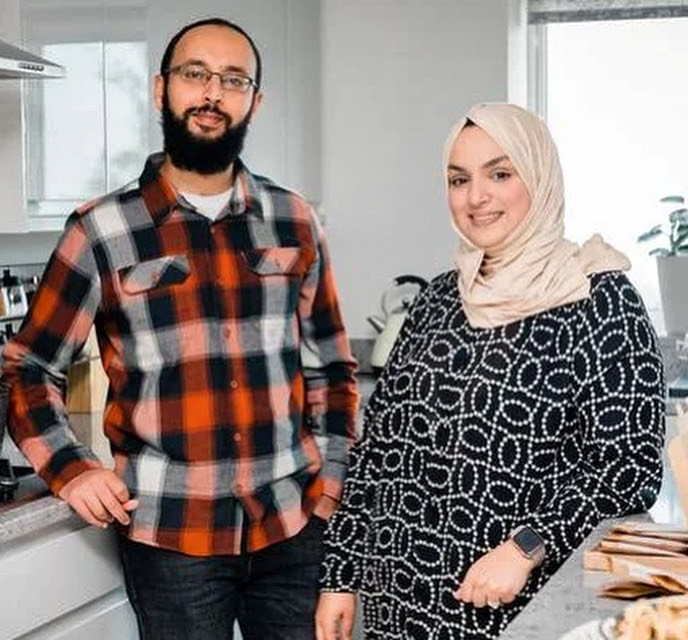 Oea, a Libyan online business based in the UK, is run by a lovely Libyan couple, Ahmed Gatnash and Nadine Dahan, officially launched in December 2020. They share their passion for Libyan cuisine through making fresh Libyan spices. Through this business, they want to introduce the diversity of Libya through its cuisine to foreigners and keep the Libyan spices available for Libyans in the diaspora worldwide.
Nadine is a former journalist studying law to become a barrister. She is passionate about Libyan food and her hometown, Zwara. Her husband, Ahmed Gatnash, born and raised in the UK, is an engineer by education. Now, he runs a human rights organization called Kawaakibi Foundation.
Inspired By The Lack of Availability
The inspiration to start this business was from the struggle of getting Libyan spices, especially with the pandemic outbreak last year and the unbelievable expensive shipping fees. It was about time to look for an alternative with the same quality. Also, Whenever Nadine and Ahmed went home before, they would come back with suitcases filled with goodies. Mainly spices, dried meat (Locally called Gedid), dates syrup, you name it.
"We compliment each other in this business"

Nadine Dahan
At the same time, they realized that they were not the only Libyans abroad struggling with this. Therefore, they bought a grinder and did their research by asking relatives and friends. They asked grandmothers and aunts. Also, they reached out to people in Libya to collect different recipes for different Libyan spices. Both Ahmed and Nadine made spreadsheets and compared the portions used in the recipes they collected. Ahmed is the scientist as Nadine described him, and she is the expert by instinct.
Experimenting Phase
The interaction and feedback of people made them very excited about launching this project. They sent samples to close friends and family members in the UK and Europe. Nadine was excited to have a heavy Zwarian influence in the recipes. Then they both realized that most of the Libyan east and west share similar mixes of spices.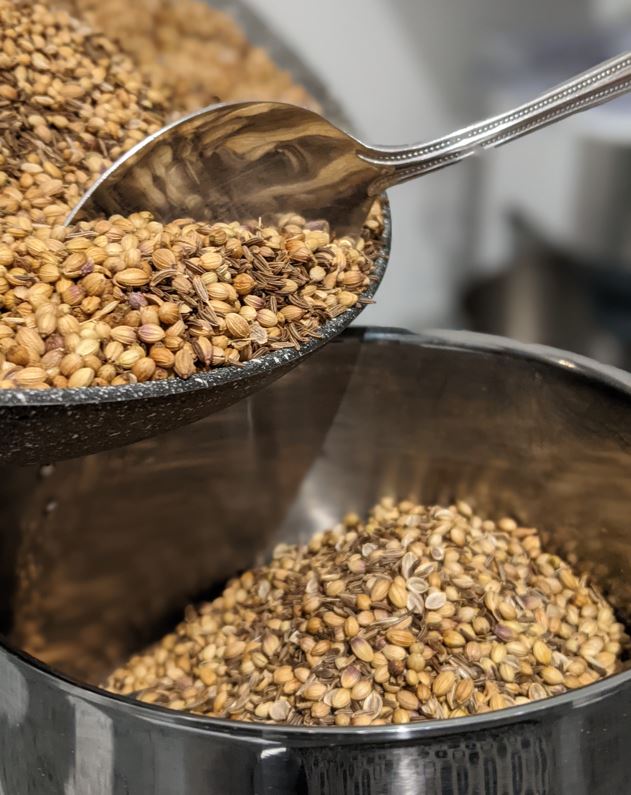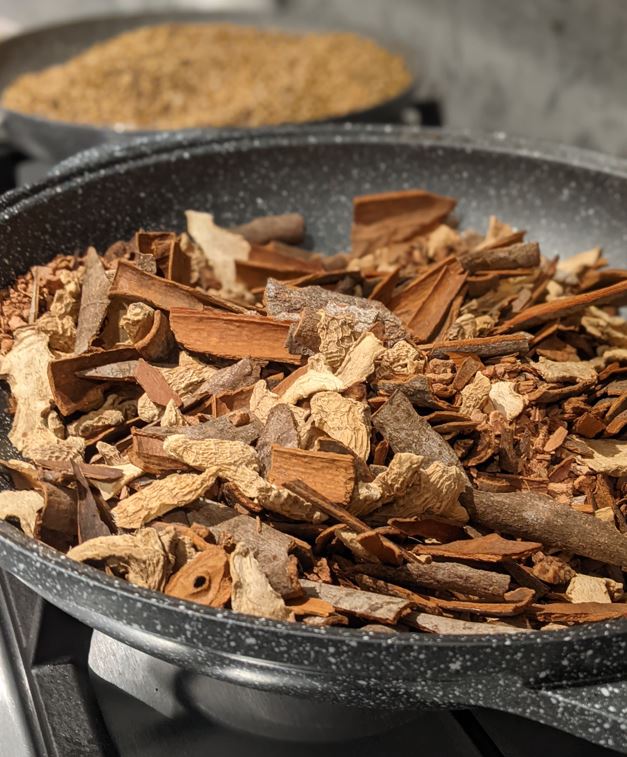 In addition, they noticed that differences in terms of recipes are also present in every household in Libya. In other words, there isn't one fixed recipe for every spice. After endless tests, they now have their unique recipes of spices mixes. These recipes are influenced all over Libya from east, west, to south. People were requesting different things, but they started with three main combinations.
The Official Launch of Oea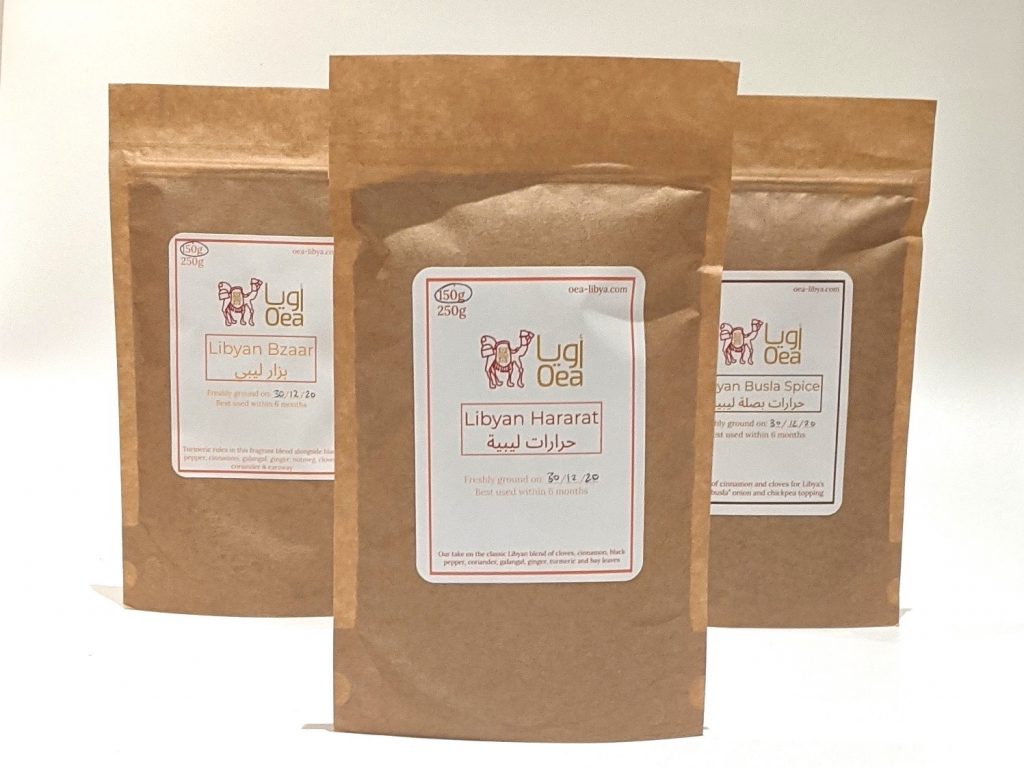 After receiving positive feedback from friends and family members abroad, they launched the website. They got a lot of advice from people who own online businesses, making it easier for them. Also, they started official pages on social media as well. The hardest part was coming up with a name for their business. Finally, they settled for the name Oea.
One of the biggest fears was that people would not find spices relevant to what they knew. But this wasn't the case once they started selling. So far, they have received good feedback and lovely messages from Libyan mothers abroad. As a result, it made all the worries they once had fade away.
They started with making the mix once customers ordered it. Now both Amed and Nadine make larger quantities. They were executing packaging before sending orders off to preserve the freshness. Small minor changes helped through this learning experience they are both having with Oea. They found out that customers looked for freshness and not the recipe as Ahmed and Nadine first thought.
Limitations & Challenges
For the owners, marketing remains a challenge to reach as many people as possible. Ahmed stressed the preparation time. They struggled a little in the first few months, given their hectic schedules. At first, Nadine was following the Instagram business mentality. But they thought that it was not necessarily the case. So they went for Twitter and Facebook to cover different levels of users. However, Nadine is more comfortable using Instagram, adding "I get the trend on Instagram".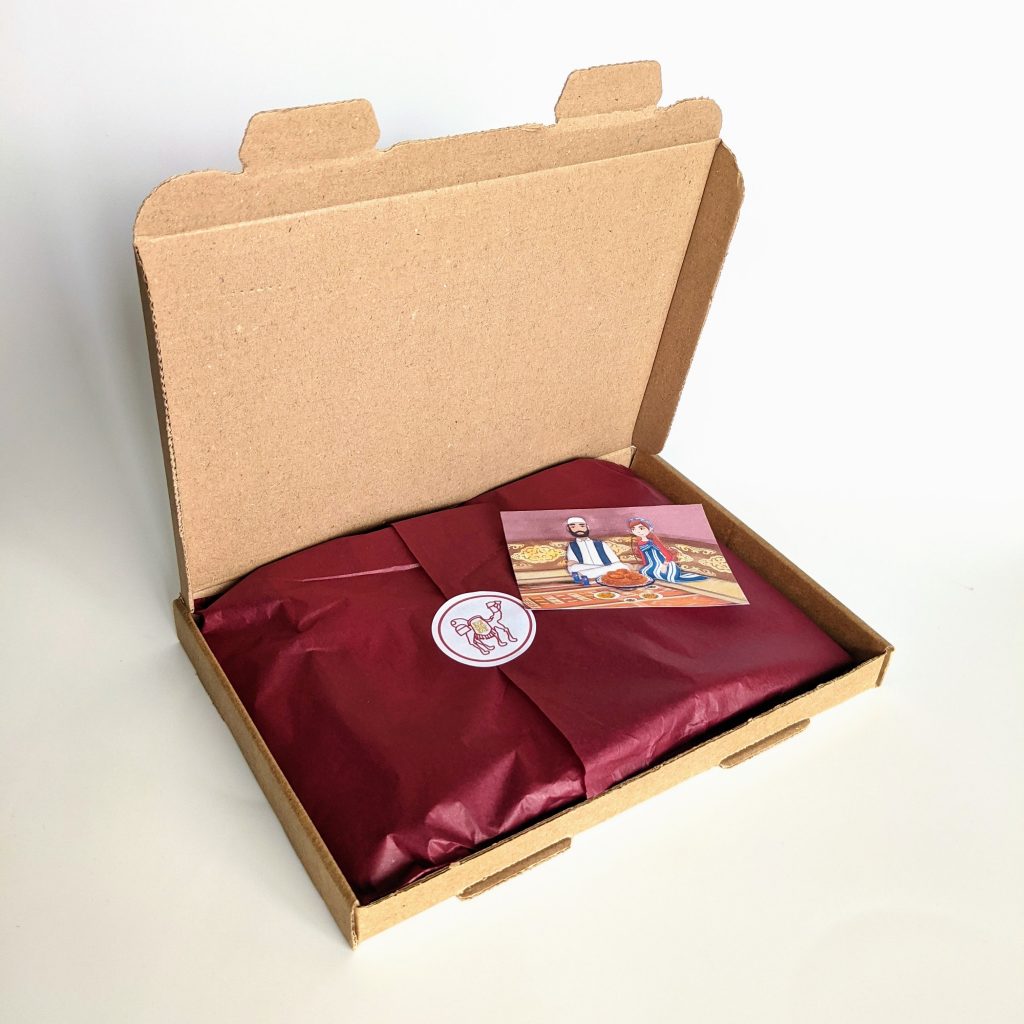 In terms of limitations, they still feel limited in full accessibility to the recipes. Since they only get them through their connections inside and outside Libya. They had so many requests for eastern Hararat. Nonetheless, they realized that the recipe was doable, and now they are meeting the demand. Ahmed expressed that through Oea, they want to discover more recipes. Moreover, to dig deeper into the Libyan culinary for its uniqueness.
Oea is Not Only Reaching Libyans Abroad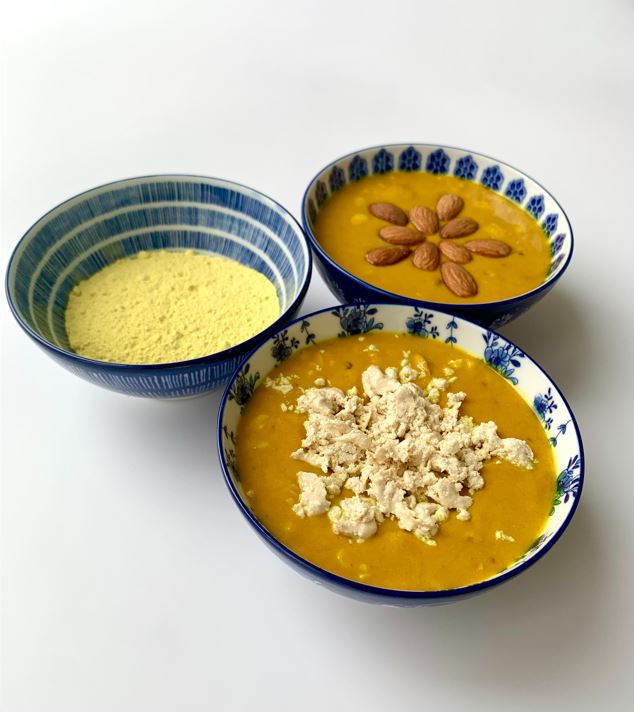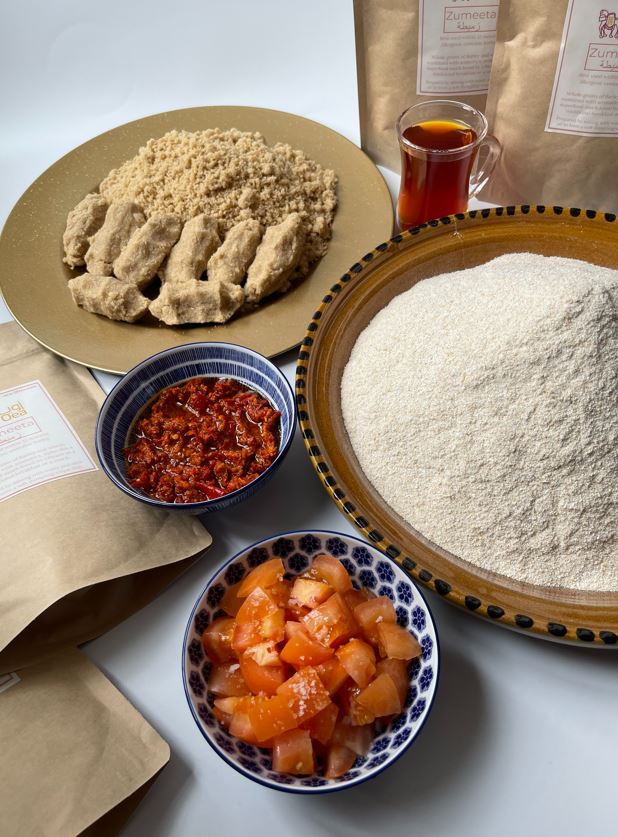 They have received orders from Libyans in the diaspora and foreigners from Greece, the UK, and the USA. They reached out to one of the Greek customers because they were curious why he ordered Libyan spices. He said that he was born in Benghazi, and he was the third generation of his family in Libya. There used to be a substantial Greek community in Benghazi. Through this project, they are also looking into the Jewish influence in Libyan food. He has spoken with some Jewish Tunisians for some background information.
"Getting to know each other's traditions is how we heal the divide and tie our communities together".

Ahmed Gatnash
Through my interview with Ahmed and Nadine, we discussed how Libyans eat Zmeeta differently. We discovered that there is now a debate between sweet and savory Zmeeta. People from Zwara consume it with Harissa and tomatoes alongside a cup of tea. In comparison, other people eat it sweet. Being an Amazigh from Nafusa Mountains, I have been used to consuming it sweet by adding some sugar to Zmeeta alongside a cup of tea.
Through this journey so far,
Ahmed and Nadine shared the key learnings from starting this business. Marketing is critical in this process, no matter how good your project is. Business owners must learn the craft of excellent marketing to make their business a success. But mostly, be open to experimenting with new things and enjoy the process along the way.
Oea provides Libyan spices, but they are trying out things outside the box. They created the Libyan soup kit, which allows non-Libyans to learn how to make a Libyan dish from scratch by providing the dry ingredients. Not only are the Libyan spices available on Oea, but they also want to make it available for foreigners to introduce the Libyan cuisine to an international audience.
You can check the variety of spices they make on Oea's official website: Oea – Oea. (oea-libya.com). Also, you can follow them for updates on social media platforms: Oea – أويا لمستلزمات المطبخ الليبي في الغربة | Facebook, Oea (@oea_foods) • Instagram photos and videos, and Oea – أويا (@Oea_foods) / Twitter.