Posted on December 17, 2018
raveling is one of the tools that open up a mind and widens a horizon for any human being. The idea of going beyond your border to another world full of beauty, challenges, and opportunities is an idea that attracts so many to go and see what is beyond. I have always hoped to travel and see countries and cities around this enormous world. I believe it is unfair to stay in one place all your life. One must experience other cultures and traditions in order to grow and learn.
Luckily, through my journey as a graduate student here in France, I decided to start my journey of discovery. After finishing up my first semester, I decided to visit other cities since I am free but my plan was to choose cities that people don't go to as much as other popular cities. I think that beauty lies within places that are least visited. So, I decided with my friend to go and visit a city in the southeast of France called Annecy. It is in the Rhone de Alpes region so you can see the Alps from there.
In this article, I will share with you the highlights of my trip and the best places to visit if you ever do decide to visit this breathtaking city. By the way, you can use this website https://www.booking.com/ to book a room in any hotel there and it shows you all the discounts and available rooms in each hotel. Also, you can choose your preferred budget. I recommend choosing a hotel in the center of the city like Hotel Du Chateauso you can walk around.
 You will be close to everything because unfortunately, my friend and I picked a hotel far from the center and we were basically walking back and forth every day for 30 minutes each to reach spots within the center and it wasn't easy because we went in December and it is extremely cold. The bright side, we got to see more of the city throughout our daily strolls.
1- Lake Annecy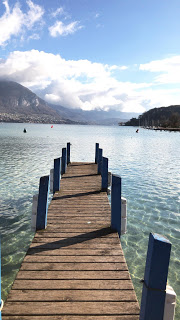 It is one of the clearest waters I have ever seen. It is located in the northern part of Annecy right close to the Lady of Liesse church. It opens from the lovers' pond (Pont des amour). You will have a look of the Alps from it and it looks like a work of art.
2- Annecy Cathedral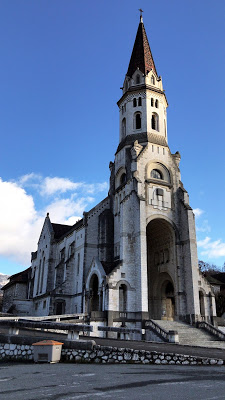 It is the first thing I noticed once I arrived there. It can be seen from any place because it is literally on top of Annecy. It is one of the city's religious symbols. You will pass the old town of Annecy so you will get to take in the beauty and history before reaching the cathedral.
3- La Vielle Ville (The old town)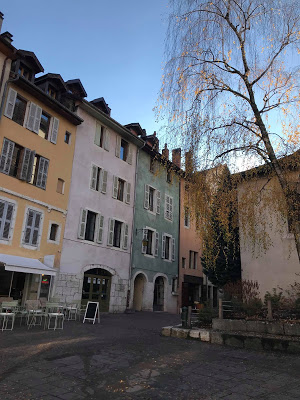 It is right in the center of the city. With its beautiful and pastel-colored houses that literally take you in another era from the 13th and 14th century. You will find local and international restaurants as well. You will find the prison of Annecy which is considered one of the city's landmarks and it is now a museum for tourists to learn about its history.
4- Annecy Castle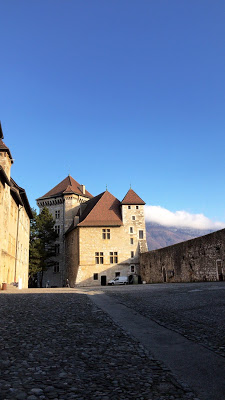 This Castle doesn't only portray the various stages of local history but also recalls the past of the Genevois province of which it was for centuries the center. The counts of Geneva used to live in this castle in the 12th century. A line of princes succeeded each other in the castle of Annecy, beginning with Guillaume II and ending with the final descendant Robert, who later became Pope Clement.
5- La Palais de I'IIe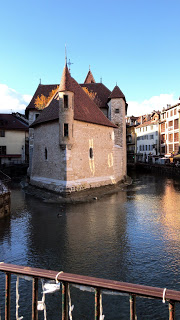 It is the island house has been used as a prison and a house of justice and an administrative center. It is the oldest part of the 12th century. After that, the house was used as a prison before housing the counts of Geneva mint in the 14th century.