Posted on January 7, 2021
Libyan Jews may have left Libya years ago but their legacy is still present in our time today. They are remembered within the social and traditional structure and their traces are left on buildings and around alleys corners. The once lively synagogues where the Jews practiced their religion and the sounds of prayers echoed. They may have left but they have not disappeared.
They are scattered around the world and they have lives today. In this piece, I am sharing the story of a Jewish Opera singer of a Libyan descent. Her voice echoes the Tripolitania voice of her father when he reads the Torah. I am excited to let you get to know the full story of Claire Meghnagi. She is one of the nicest people I got to interview and her kindness and passion radiate from her voice as the conversation continued.
Who is Claire Meghnagi?
Claire is an opera singer from a Libyan Jewish father. She is married to a cellist and they have two kids, a 16 year old girl and a 12 year old boy. They both did their master's degrees in Boston and in the USA where she performed professionally.
Back in the early 2000s, the music industry was so active and busy. Claire travelled the world with her family to perform and do music with her husband. She said ''It was a better time for the music business and it changed a lot ''. The competition was there but not the way it is now.
Her beginnings and when she fell in love with Opera
Claire began to sing in school when she was in 2nd grade. Her music teacher saw how much potential she has in classical music so she took her to the Philharmonic. She got interested in this genre of music and she in return opened her parents' minds to it. She embarked the journey of studying classical music literature. Then she learned advanced pieces when she was in high school.
When she went with her piano group, on an exchange summer camp, to Canada. She was only 13 years old and when they finished, an opera singer approached her to invite her to her show to hear her perform.
Claire went and she was blown away by the opera singer performance and the fact that there is no need for even a mic. Since then, there was no going back. It became her whole world as she explained.
Her father's inspiration in singing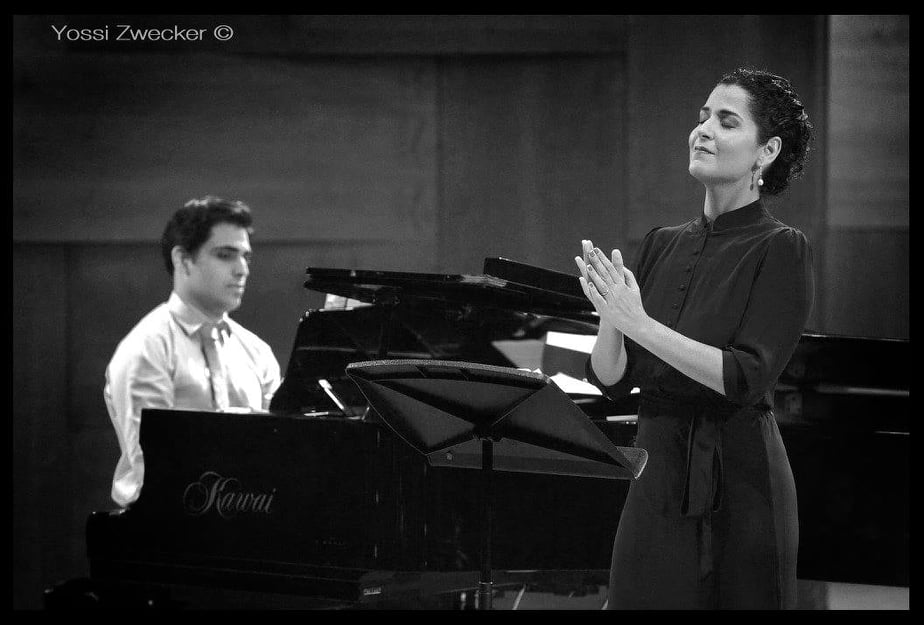 Claire's father, Mr. Issaco Meghnagi, made her sing with him since she was two years old, mainly festival Italian songs. They remind her of her childhood and he taught her Italian songs. Her parents spoke Italian at home and she spoke it from an early age. She was always singing and he is her biggest source of inspiration.
It is important to mention that the Jewish traditions are full of singing, every Friday they do the Kudus and they do the blessing before the synagogue and the singing voice of her father. It is part of her cultural identity. He has a very high-pitched voice, though he is not classically trained. Every holiday has its own blessing. There is a discipline in singing, in his Tripolitania style. In special weddings, for example, the seven blessings.
Tripoli, a wound that doesn't heal
Claire's inspiration to become a singer, particularly an opera singer, was from her father whom she watched him sing the prayers when she was young. Her father is from Tripoli and as she said and I quote ''Tripoli for my father is a wound that does not heal''. Her father left without saying a proper goodbye to his home and place of birth.
A place he never managed to return to since the cohesion that once existed is no longer there today. To talk about Tripoli, it is something she is not familiar with. However, she can hear "home" in his voice. It is a voice of love and agony to his home city, it has a lot of humanity.
She told me about what she heard from her family on how they lived in Tripoli. They studied in Italian schools and her grandfather was a police officer. At that time, it was not common for a Jew. They had good relations with Arabs. They lived in harmony. However, Claire told me that home for her father is a box that they didn't yet open. It is fascinating for her, when she thinks about it, it is the way her father lived there.
Opera singing through COVID-19
There was a period of a month to make concerts, for 30 people outside, in the open air. To do social distance, She has a small group in Jaffa in Palestine. It happened where her parents and neighbours live. Her daughter sold tickets and it was the last concert she did during 2020 and it meant a lot. The differences of big halls to small gatherings was special to her.
The little chamber experience was her favourite where she gets to see the audience. However, when it is a small room, it can be exposing and challenging. It is transparent and it is much harder but very rewarding. She got more mature as an artist and now she likes it to be natural and raw. Now we are back to natural exposure. She wishes we can have big theatres.
At the end of our conversation, I asked Claire how she would picture Tripoli today and she said:
"I would want to witness my father waking through Zangit El yahoud (The Jewish Alley). It is located in the old city of Tripoli where my father lived. I would want to see him running his daily errands. He wrote formal documents and letters for people who couldn't write requests to the government. I would want to see him in his normal life in Tripoli. I still wonder sometimes if this world would exist."